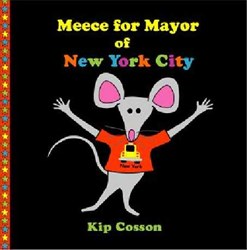 "Meece for Mayor of New York City is a wonderfully illustrated and educational story for children everywhere, it provides a colorful depiction of our great city, New York." - former Mayor Rudy Giuliani of NYC
New York, NY (PRWEB) September 17, 2013
"Meece for Mayor of New York City is a wonderfully illustrated and educational story for children everywhere," says former New York Mayor Rudy Giuliani. "It provides a colorful depiction of our great city, New York."
"It's never too early to interest people in the election process!" remarks former NYC Mayor David Dinkins, who calls the book, "Terrific!"
The children's book, written and illustrated by Kip Cosson, follows the adventures of Meece Mouse, who decides to run in the New York mayoral election. As he campaigns, Meece and his campaign manager, Ned Penguin, visit all five boroughs of New York City, including such attractions as Central Park, Fifth Avenue, the High Line, and the Intrepid Sea, Air and Space Museum. A voting ballot at the end of the book allows readers to cast their own votes, giving them an early experience of democracy in action.
Even if they're not from New York, children can learn about America's political system from Meece for Mayor of New York City. "It truly captures city politics in a way both children and adults can understand," says Mayor Jonathan Rothschild of Tucson, AZ. "I love the colorful pictures too. It's a political strategist best seller!"
"Kip Cosson's vivid and colorful tour of New York City is educational and fun," adds Mayor Betsy Price of Fort Worth, TX, who did a reading of the book at a Fort Worth Elementary school with Cosson. "I hope my next trip down the campaign trail is as enjoyable as it was for Meece Mouse! Here's to a world with more LOVE and More CHEESE!"
According to 89-year-old Mayor Eb Whipple, who has been the mayor of Cheeseville, CA since the early 1970's, "The artwork is stunning and the story is delightful!"
Over sixty reviews written by Mayors from around the world can be read at: http://www.meeceformayor.com/Mayor_s_Review.html
Cosson is promoting Meece for Mayor of New York City in the MeeceMouseMobile, which is currently making the rounds of numerous city neighborhoods. The MeeceMouseMobile, which has mouse ears on top as well as a nose, two front teeth, tail, and signage, is designed to generate interest in the 2013 New York City Mayoral election among all New Yorkers, young and old. A Meece for Mayor campaign video has been produced to add humor to a sometimes-dry New York Mayoral race.
For more information on the book ($16.95 for hardcover), the video and the MeeceMouseMobile, go to http://www.MeeceForMayor.com
About The Author: Kip Cosson is a Texan who lives in New York's Greenwich Village. He launched Kip Kids of New York in 1991 by hand-painting his artwork on children's clothing. This is the third book Kip has written and illustrated; his first two are Ned Visits New York (2006) and Ned & Meece - The Wheels of New York (2009).
Press Contact: For a review copy or for more information or to arrange an interview contact:
Kip Cosson (212) 691-8662 [email protected] http://www.MeeceForMayor.com