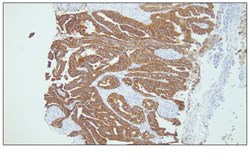 IRVING, Texas (PRWEB) September 10, 2013
Miraca Life Sciences is excited to announce the initiation of a new testing protocol that will aid in the management of patients with gastroesophageal adenocarcinoma. This protocol is in response to the 2010 "ToGA" (Trastuzumab in Gastric cancer) clinical trial that demonstrated a clear survival benefit for combining Trastuzumab (Herceptin®) with chemotherapy in the treatment of advanced gastric/gastroesophageal junction adenocarcinomas with HER2 over-expression.(1) Following this study, the FDA approved the use of Trastuzumab (Herceptin®) in combination with chemotherapy for the treatment of these patients.
The ToGA study also demonstrated the importance of proper HER2 testing to determine the use of Trastuzumab (Herceptin®) therapy in advanced gastric and GEJ adenocarcinoma. Using immunohistochemistry (IHC) and fluorescent in situ hybridization (FISH), (1) a panel of experts in 2012 recommended that "all patients with gastric cancer should be tested for HER2 status at the time of initial diagnosis, with biopsies being the preferred specimen type due to specimen quality reasons." (2) This recommendation is based on the fact that > 70% of patients with gastric/GEJ adenocarcinoma typically present with advanced/metastatic disease (SEER data for gastric cancer 2002-2008). As such, Miraca Life Sciences will be performing HER2 testing by both IHC and FISH on all gastroesophageal adenocarcinomas.
"At Miraca Life Sciences, we have a rigorous scientific review process dedicated to achieving two goals: 1) remaining at the cutting edge of tissue analysis using optimal methodologies and interpretations, and 2) being judicious to offer only those tests that have sufficient evidence of medical benefit to patients," states Richard Lash, M.D., Chief Medical Officer. "We are excited to be offering this and other new tests that will provide critical information to clinicians when making treatment decisions."
Miraca Life Sciences continues to be at the forefront of molecular testing that has clinical value and scientific merit, and is confident that patients will benefit from this new test offering.
References:
1. Yung-Jue Bang, Eric Van Cutsem, Andrea Fevereislova, Hyun C Chung, Lin Shen, Akira Sawaki, Florian Lordick, Atsushi Ohtsu, Yasushi Omuro, Taroh Satoh, Giuseppe Aprile, Evgeny Kulikov, Julie Hill, Michaela Lehle, Josef Rüschoff, Yoon-Koo Kang, for the ToGA Trial Investigators. Trastuzumab in combination with chemotherapy versus chemotherapy alone for treatment of HER2-positive advanced gastric or gastro-oesophageal junction cancer (ToGA): a phase 3, open-label, randomised controlled trial. Lancet 2010;376:687-97
2. Josef Rüschoff, Wedad Hanna, Michael Bilous, Manfred Hofmann, Robert Y Osamura, Frédérique Penault-Llorca, Marc van de Vijver, Giuseppe Viale. HER2 testing in gastric cancer: a practical approach. Modern Pathology advance online publication 6 January 2012;doi:0.1038/modpathol.2011.198
About Miraca Life Sciences. Miraca Life Sciences specializes in the development and commercialization of the highest quality academic pathology services, primarily in the fields of dermatology, hematology, gastroenterology and urology. The company's core team of more than 70 academic-caliber specialists utilize state-of-the-art pathology laboratories currently headquartered in Irving, Texas, and throughout the United States to serve more than 3,000 patients every day. Through rigorous quality assurance, daily and monthly conferences, and close relationships with clinical partners, Miraca Life Sciences continuously improves diagnostic precision.
About Miraca Holdings. With group net sales of ¥192.2 billion (FYE 3/2013), Miraca Holdings, a Japan-based holding company in the healthcare sector listed on the Tokyo Stock Exchange, is engaged in the business consisting of three segments: (i) development, manufacture, and commercialization of in vitro diagnostics, (ii) clinical laboratory testing, and (iii) other healthcare related businesses, which are conducted by its subsidiaries and affiliates including Fujirebio Inc,. a leading supplier of in vitro diagnostics in Japan, and SRL, Inc. ("SRL"), Japan's largest commercial laboratory testing services to medical institutes throughout the nation, ranging from general testing to esoteric testing, including gene-based tests.