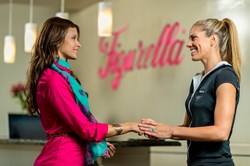 "Our dieticians meet with clients regularly to discuss nutritional and dietary habits and to offer advice on how they can improve their eating habits."
Miami, FL (PRWEB) September 04, 2013
Figurella, a company specializing in a 100% natural method of weight loss for women, has announced enormous international growth this summer. The staffs at Figurella's Florida weight loss centers announced this week that the company has opened its 512th exclusive center. On top of this news, the company has also helped its 1,983,675th customer achieve her ideal shape. Figurella has been operating around the globe since 1968, which is an impressive run in a tough industry. Add to that rich history the recent expansion into the United States and other markets, and it is clear that Figurella is a company that is here to stay.
Possibly Figurella's most significant draw is the expert nutritional advice supplied to clients on an individualized basis. Figurella believes this is an essential, and experts agree. WebMD Director of Nutrition Kathleen M. Zelman says, "Most of us are creatures of habit. We buy the same foods from the same grocery store, prepare the same recipes over and over, and live within our own familiar routines." Figurella understands that dietary knowledge forms the foundation of any successful fitness program. According to a spokesperson for the Florida centers, Giulia Di Loreto, "Our dieticians meet with clients regularly to discuss nutritional and dietary habits and to offer advice on how they can improve their eating habits."
Figurella's diet plan encourages healthy client-food relationships. Figurella's on-staff dieticians make nutrition recommendations that have been developed to boost metabolism and detox the body, while combatting water retention and cellulite. Dieticians offer healthy recipes full of fruits, veggies, and other foods that help clients eat clean. Each nutritional profile is flexible and developed based on the personalized goals and lifestyle of the client. When combined with the other aspects of the Figurella method—physical exercise and active-oxygen bath—the nutrition plan contributes significantly to a client's results and helps the client lose weight.
International Figurella spokesperson, Massimiliano Vallunga of Colombia, attributes the worldwide success of the company in part to the personal attention and individualized nutritional advice. "Even though Figurella is a large international company, we don't lose sight of the individual client and her needs. That support brings clients back to us time after time. Word is spreading about Figurella and what we do with nutrition, and we look to keep growing." The company certainly seems poised to continue to help women get fit through their unique approach to customized fitness.
For more information on FigurellaUSA, contact one of the Florida centers:
Figurella Coral Gables
1600 Ponce de Leon Boulevard
Coral Gables, Florida 33134
786-777-8951
Figurella Palm Beach Gardens
5100 PGA Boulevard, Suite 101
Palm Beach Gardens, Florida 33418
561-799-3600
Hours of operation at both centers are Monday – Friday from 9:00 a.m. – 7:00 p.m. Appointments can also be made online at http://www.figurellausa.com.