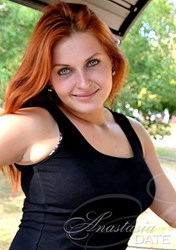 (PRWEB) September 03, 2013
AnastasiaDate.com has seen huge growth in membership figures over recent months as large numbers of new members register to try the top quality service for themselves. The company has recently reported this massive growth in memberships and is delighted its service is growing in popularity.
AnastasiaDating is regarded as one of the leading online dating services in the world. The company offers an exclusive way for members to connect with international ladies so they can enjoy interesting and amusing conversation, meet new people and even find romance and love.
The company, which already has over four million members, works hard to ensure that everyone who joins has the same top quality experience. AnastasiaDating members can browse profiles of other attractive members, send messages and enjoy private video chats with some of the world's most beautiful and charming international ladies.
No wonder AnastasiaDating is growing in popularity at such a fast rate. The chance to meet wonderful international people, who could be potential romantic partners, is a wonderful prospect for many.
The company is delighted to see such significant growth in memberships. The majority of new members are successful business entrepreneurs and professionals who enjoy the finest that life has to offer, which clearly includes their choice in online dating. The AnastasiaDating service is known for being an exclusive service for discerning clients who want the very best in life, including their romantic partners.
The opportunity to connect with international singles is an exciting prospect that many members are attracted to. They want the chance to meet someone different to the people they meet in their home towns. AnastasiaDating meets this need by providing the opportunity to discover wonderful international individuals who are attractive, charming, and educated.
Anastasia Date says this latest good news comes just after recent improvements were made to the site. The company believes all the hard work that went into the further development of the service is paying off with this huge increase in memberships.
AnastasiaDating also receives huge praise from customers too. It is regarded as a top quality and discreet service that enables successful people to find romantic partners. For two decades the company has served members by giving them the best in quality and service. The online dating industry has changed a great deal over the last twenty years, and AnastasiaDate has been part of the industry's growth with their innovations and exciting use of technology.
By working hard to offer an exclusive service to members, the company attracts an extremely high caliber of client to the service. This in turn makes it extremely attractive to many more people who flock to be part of this exclusive and special online group.
The company will continue working hard to give the very best quality to all members so they can enjoy their online dating experience with beautiful international members at any time of the day or night.
About AnastasiaDate
AnastasiaDate is the leading international dating service that facilitates exciting and romantic companionship with beautiful and interesting women from all over the world. Founded in 1993 by a Russian-American couple, AnastasiaDate now has over 4 million international users and attracts more than 10 million online visits monthly. Additionally, over 1.5 million conversations are exchanged onsite daily. AnastasiaDate is committed to member safety, customer satisfaction and the ongoing pursuit of innovation. Headquartered in Moscow and New York with additional representation in every country it touches, AnastasiaDate provides a high level of customer service to a worldwide clientele. AnastasiaDate users are able to communicate across a variety of top-notch multimedia platforms, including Video Chat and a mobile app for Android devices available in the Google Play store.