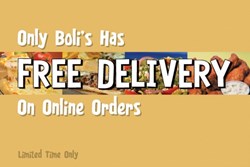 We want to help our customers and offer this at a time when saving a few dollars can really make an impact.
(PRWEB) September 04, 2013
Pizza Boli's is giving back to the communities it serves by helping families to save money during this expensive time of the year. It is offering free delivery for all online orders for a limited time, starting on September 3rd, 2013.
The month of September marks a time when parents have just spent extra money on school supplies and gas for back-to-school activities. It is also a time when college students are settling into a new semester while having less money to spend on food.
Pizza Boli's Marketing Director, Maroula Giannaros, says the company understands that customers are trying to find ways to spend less. "People want to save money when they're ordering in, but on top of taxes and tips, delivery fees can really push the costs up," Maroula says. With free delivery, the average customer can expect to save up to $3 per order.
Delivery fees serve multiple purposes. The delivery fees cover insurance, fuel costs, and wear-and-tear on delivery drivers' cars. Every time a driver goes on the road, it costs the company an extra $5.00 just to deliver, in addition to the driver's hourly rate. Giannaros explains, "So, though we can't provide this special all the time, we want to help our customers and offer it at a time when saving a few dollars can really make an impact." Customers will be able to take advantage of the special on every order placed until the offer expires end of October. However, they are urged to continue to tip their drivers for their valuable service.
Pizza Boli's has 67 stores across Maryland, Virginia, The District of Columbia and Pennsylvania. It provides delivery service, party catering, and take-out. A few locals also have in-store eating areas. Although it is well-known for its fresh handmade pizza, it also offers authentic Italian food, pasta, salads, submarine sandwiches, wings, strombolis, and desserts.
About Pizza Boli's:
For more than 25 years, Pizza Boli's has been delivering award-winning dishes to an enthusiastic fan base. From the very beginning, Pizza Boli's wanted to deliver to its customers: MORE variety. Today, Pizza Boli's has successfully accomplished what other delivery pizza companies have failed to do: offering MORE variety of toppings and MORE menu items while maintaining MORE taste. With over 65 stores in Maryland, Virginia, Pennsylvania, and the District of Columbia, Pizza Boli's provides diverse menus for dining, home delivery and catering. In addition to pizza, it offers salads, pasta, wings, subs, strombolis and more. To see what Pizza Boli's can do for you, visit http://www.pizzabolis.com.