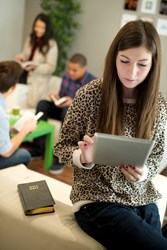 Children are focused on technology these days and when you can channel that interest into learning more from the Bible and scripture apps on their smartphone or tablet, it can help foster their love of wanting to learn more. - Lori Anne Singleton
Tupelo, Mississippi (PRWEB) September 05, 2013
Since Moses came down from the mountain with the Ten Commandments, tablets have played a pivotal role in religion.
Today's tablets are electronic devices that put knowledge at a person's fingertips. Forgot the 10 Commandments or Seven Deadly Sins? Simply whip out a tablet or smartphone and look them up. Oh, and don't fret about using it during church, the minister is probably using his too!
For ministers looking to reach a mobile generation, the Church app is a platform that enables you to create high-quality customizable apps for your church or ministry. Once the app is created, ministers can supply the congregation with the word of God wherever they may be.
These days, with carriers like Verizon Wireless offering 4G LTE coverage in Mississippi, that could be anywhere, ranging from Sunday service in the city to church camp in the country.
Religious leaders note that it's important to help children establish a relationship with God at an early age. The American Bible Challenge (free) is an exciting way to test kids' Bible knowledge through competition with friends. The game features four different question types ranging from Genesis to Revelation.
Lori Anne Singleton, a Sunday school teacher in Corinth, Miss. and a District Manager with Verizon Wireless in northern Miss., said in order for the church to easily access today's youth, the church needs to enter the mobile world.
"Children are focused on technology these days and when you can channel that interest into learning more from the Bible and scripture apps on their smartphone or tablet, it can help foster their love of wanting to learn more."
So the next time you attend church service and you've left your Bible at home, instead of reaching for the one in the back of the pew in front of you, grab your tablet or smartphone, armed with the Bible app, for a little wireless worship. The Man Upstairs won't mind.