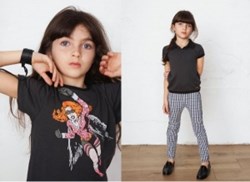 Our pieces are stylish and comfortable, but are also finely crafted and durable, which makes parents happy.
(PRWEB) September 04, 2013
The new school year is just around the corner, and Kisan, the highly curated designer women's and children's retailer in Soho, announced the arrival of the latest fall styles from several top children's apparel designers. Cute styles from Anais & I, Simple Kids, Babe & Tess, Finger in the Nose, and Pepe feature not only style, but comfort and quality.
"Our highly curated children's collection focuses on the same elements that we insist upon for our women's apparel," said store co-owner Thorunn Anspach. "Each piece is exceptionally well-made and comfortable, and designed with our signature balance of cosmopolitan city style and Parisian sensibility."
"We choose children's styles that boys and girls will love to wear," Bremond said. "Our pieces are stylish and comfortable, but are also finely crafted and durable, which makes parents happy."
Anais & I features printed dresses and tops as well as cozy cardigans for girls. New York designer Jane D'Haene, who emigrated from Korea with her parents when she was a small child, began designing baby clothes while pregnant with her daughter Anais. D'Haene insists upon getting her kids' approval on every style she designs. Her apparel is not only stylish, but features clean lines and the ability to be easily mixed and matched.
T-shirts featuring classic rockers and silly sayings, classic cardigans in child-friendly colors, and puffer jackets are just part of the Simple Kids collection for fall. The Belgium design house, headed by Englishwoman Melanie Ireland, features styles for both boys and girls. The designs include durable fabrics created for comfort, including soft alpaca, corduroy, cotton, linen, and wool. Accessories are also part of the line, which include brightly colored tassel necklaces for teen girls.
For babies and young children in families that live a green lifestyle are onesies, t-shirts, and dresses from Babe and Tess. Italian designer Paola Mazzocchin's styles are not only devoted to craftsmanship and quality, but made with fabric and dyes that are completely natural. This approach to kid's clothing creates one-of-a-kind pieces that are not only stylish, but a pleasure to wear.
Boys and girls who want a little edge to their style won't be disappointed with the jeans, jackets, tops, and boots from French designer Finger in the Nose, while their parents will love the quality and durability of the designs. These pieces are made from 100 percent natural fibers for total comfort. Kids can choose from bright prints, soft watercolor jeans, and much more.
Kisan offers a wide variety of Italian footwear from venerable designer Pepe, which has crafted shoes for children for 40 years. Sneakers, Mary Janes, sandals, and slip-on styles in a variety of kid-friendly and neutral colors are just in for both boys and girls.
Anspach and Bremond opened Kisan in 2008 in Soho, bringing the very best of their favorite fashions and designers they discovered while traveling the world extensively for 20 years. Their retail philosophy is to marry Parisian fashion sensibilities with New York style with clothing that doesn't sacrifice fine quality and wearability. The owners pride themselves on selecting current and upcoming designers with a unique dedication to both craft and style.
Kisan is located at 125 Greene Street, between Prince Street and W, Houston Street in New York. Or shop online at http://www.kisanstore.com.