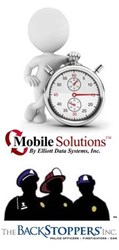 St. Louis, MO (PRWEB) September 09, 2013
Elliott Data Systems, Inc., an expert in the development and integration of the Mobile Solutions™ line of identification and accountability solutions for Emergency Response, today announced that on behalf of National Preparedness Month Elliott will donate $5 for each of the first 200 attendees of Elliott's Mobile Solutions™ Emergency Response Preparedness Webinar scheduled in late September to The BackStoppers Inc., an organization that supports the survivors of fallen local Police Officers, Firefighters and EMS personnel.
Elliott offers Emergency Management Agency (EMA) and Public Health Department professionals the opportunity to join a ten-minute webinar presentation that provides a high level overview of how Mobile Solutions™ identification and tracking systems support first responders and volunteers. This webinar is available at three separate times during the last week of September with online registration available at http://www.elliottmobilesolutions.com.
"Elliott Data Systems, Inc. is committed to supporting the safety and accountability of first responders in the event of a natural disaster through Mobile Solutions™. Our team values and respects the men and women who dedicate their lives to the safety of our community. That is why Elliott would like to support The BackStoppers Inc. in their efforts to provide assistance to Police, Fire and EMS families through our September challenge." – Josh Dunbar, President, Elliott Data Systems, Inc.
EMAs and health departments across the nation use Elliott's Mobile Solutions'™ identity and accountability products in their emergency preparedness program. The features and functionality of Elliott's Mobile Solutions™ allow first responders to manage incidents more efficiently by securely identifying and tracking personnel and assets while fostering greater interoperability. Mobile Solutions™ public health emergency response preparedness includes patient enrollment, medication dispensing and POD management solutions. Departments may analyze data and maximize government funding by using automated reporting features which not only saves time but also provides a valuable financial investment.
About Elliott
Elliott Data Systems, Inc. is the Mobile Solutions™ developer and integrator with expertise in the deployment of mobile security, positive identification and accountability solutions. Elliott is headquartered in the Midwest and has multiple partners located across the United States who are certified to sell and support Elliott's Mobile Solutions™. Elliott's staff includes Solution Representatives, Software Engineers, and Certified Technicians who are available to provide the professional services needed to configure and integrate a Mobile Solutions™ system and provide the training and technical support desired by the customer. To learn more, contact Jason Rezabek, Mobile Solutions Sales Manager at 1-888-345-8511, jrezabek(at)elliottdata(dot)com or visit http://www.elliottmobilesolutions.com to find a Certified Solution Provider near you.
About The BackStoppers
The mission of The BackStoppers is to ensure stability and quality of life for the families of police officers, firefighters and publicly-funded paramedics and EMTs killed in the line of duty or suffering a catastrophic injury in a defined coverage area in Missouri and Illinois by providing financial and emotional support.
To learn more about The BackStoppers, visit http://www.backstoppers.org or call 866.539.0521 to make a donation.