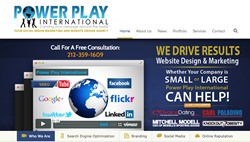 'You can sell anything to companies or clients, but the bottom line is, how will it work for them. Maintaining a good business relationship with our clients and helping them get to the next level is what is important to us.' - CEO Dean Spinato
New York, NY (PRWEB) September 04, 2013
Power Play International has launched a new website called Jumpjet.com. Jumpjet is a newly created company in the private aviation space. It is the first and only private membership club that allows its members to fly on a private jet for the approximate price of first class.
Jumpjet offers a new solution for leisure and business travelers that are looking to avoid the hassles of first or business class commercial airline travel. Jumpjet's new website, created by the reliable and reputable company for web design Power Play International, is sleek and simple, mirroring the travel experience Jumpjet members can expect. The website allows interested viewers and potential new members to quickly grasp Jumpjet's model and presents existing member with a convenient vehicle to place new reservations and monitor upcoming trips.
In the creation of this website, Dean Spinato, the CEO of Power Play International, is proud to offer its beauty and services for all. What the company is able to provide when it comes to website designing is only the best and the most impressive designs for various online businesses. With the help of the web design agency, a new online business is sure to get the best out of the results that they are expecting to get. Aside from making web designs, the company is also offering search optimization services that are sure to help web owners maintain the results that they have obtained.
Through the high quality services of the company, the web design that was used on the newly launched website is sure to be accessible and user-friendly. The function of the website was made to provide the ease of giving visitors and members of the site the ease of making use of the entire pages of the site.
Power Play International is a web design agency that is situated in New York City and is the one that launched and introduced the new website JumpJet.com for people who want to have a private flight to any destination that they can think of. The company is a reputable web design that is made to provide clients satisfaction for their online businesses.
To get more information about the services of the company, feel free to visit their site at http://powerplayinternational.com. Those who have inquiries can contact any of their representatives through calling 212-359-1609.