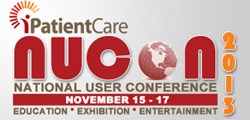 iPatientCare NUCON is an open platform for sharing ideas, learning and collaborating with industry veterans. They really sees the vision where things need to go. We also get treated very well. - Robert Elliott, MD, A Diop Family Care Medical Group
Woodbridge, NJ (PRWEB) September 04, 2013
iPatientCare, Inc. - a pioneer in mHealth and cloud based ambulatory EHR, integrated Practice Management and Patient Portal solutions - announced today the much awaited National User Conference (NUCON) 2013 to be held on November 15 through November 17, 2013.
"We thrive to learn from our users and channel partners in terms of their wishes and requests for enhancing their experience of using our software solutions and effectiveness of service deliveries. This year's User Conference will focus on Meaningful Use Stage 2 beginning with January 1, 2014. We believe the iPatientCare user community is ready to embrace the challenges of Stage 2 of the Meaningful Use and there may not be a better platform to share the enhancements planned to released as part of iPatientCare R14," said Kedar Mehta, CTO, iPatientCare.
Hitesh Joshi, VP (Operations) and Chief Event Coordinator was jubilant over this year's NUCON. He commented, "This year's National User Conference (NUCON) is planned to a fun event. We want our users and channel partners to kick-off the holiday season over Wine, Cheese, and Chocolates as we would be only couple of weeks away from the Thanksgiving. We have also chosen a special gift pack for the attendees keeping in mind the chills and thrills of the forthcoming festivals."
"I have been attending iPatientCare NUCON since last three years and all conferences have been really good. Last year, we had personalized one on one breakout sessions with senior technology officers that gave us an opportunity to discuss the enhancement suggestions we needed in the software. I am really encouraged by that. iPatientCare really sees the vision where things need to go. The fellowship we had here to get to know all of the staff that works on our patients' Medical Records was second to none. We also get treated very well. iPatientCare definitely knows how to take care of its customers when you attend one of these conferences. The afterhour's gatherings are awesome. I look forward to attending iPatientCare NUCON every year," said Robert Elliott, MD, A Diop Family Care Medical Group, Los Angeles, California.
iPatientCare NUCON 2013 as a Virtual Event is an ultimate vision to bring together the iPatientCare channel partners, end users, certified professionals, business partners, and employees of iPatientCare to attend educational sessions, attend the exhibition, and have some fun together as a group.
About iPatientCare
iPatientCare, Inc. is a privately held medical informatics company based at Woodbridge, New Jersey. The company is known for its pioneering contribution to mHealth and Cloud based unified product suite that include Electronic Health/Medical Record and integrated Practice Management/Billing System, Patient Portal/PHR, Health Information Exchange (HIE), and mobile point-of-care solutions that serve the ambulatory, acute/sub acute, emergency and home health market segments.
iPatientCare 10.8 is compliant with the ONC 2011 Edition criteria and was certified as a complete EHR in accordance with the eligible provider certification criteria. Full certification details can be found at https://www.cchit.org/show-onc-cert?certid=a055000000D3BH1AAN. iPatientCare 10.8 is also certified in CCHIT's separate and independently developed certification program and is a CCHIT Certified® 2011 Ambulatory EHR additionally certified for Child Health.
The company has won numerous awards for its EHR technology and is recognized as an innovator in the field, being a pioneer to offer an EHR technology on a handheld device, an innovative First Responder technology to the US Army for its Theatre Medical Information System, the first to offer a Cloud based EHR product. iPatientCare is recognized as one of the best EHR and Integrated PM System for small and medium sized physicians' offices; has been awarded most number of industry Awards; and has been recognized as a preferred/MU partner by numerous Regional Extension Centers (REC), hospitals/health systems, and academies.
Visit http://www.iPatientCare.com for more information.
-- END --
Contact:
iPatientCare, Inc.
One Woodbridge Center, Suite 812, Woodbridge, New Jersey 07095
Phone: 800-741-0981 | Fax: 732.676.7667 | Email: info(at)ipatientcare(dot)com