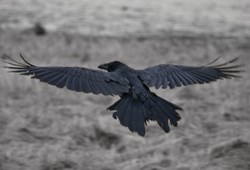 No matter what we do it has to be worthy of two things, putting our name on it and putting it out there for our clients. -Michael Bickerton
Oakville, Ontario (PRWEB) September 05, 2013
RAVEN5 Ltd. is keeping pace with rapid industry change, announcing a new name in conjunction with a its full transition into the advertising and marketing digital age. Formerly JBM Group, the rebranded agency now offers full service digital advertising and marketing as it transitions from the print age. Company partner Michael Bickerton says, he made the move in an effort to not only keep up with technology but also to meet the changing needs of the consumer.
"It's a name that represents our company's transition into the digital age," says Bickerton. "Our new look is trendy and edgy, while as a company, we offer a solid direction focused on specific service offerings. Our goal is to assist clients in understanding and engaging the digital marketing era. Marketing and advertising messaging is now focused on conversation and engagement forcing communication to be open, honest, transparent and more humanized," adds Bickerton. "Consumers not only have access to advertising, but peer to peer reviews and commentary. They have the technology to get information and pricing, and to advise."
Bickerton says that clients need to recognize that e-commerce and m-commerce allow consumers to purchase on their schedules. As such, the awareness, information, engagement and purchase process and funnels have changed as well. Mid-size business has really yet to engage the digital marketing and online advertising and RAVEN5 hopes to fill that void.
The new name represents two things - the "RAVEN" as the messenger and the "5" being the five seconds a company's audience has to be captivated by that message. The tagline 'MAKE IT COUNT' is a philosophy used by the agency for both itself and their clients. "No matter what we do, it has to be worthy of two things, putting our name on it and putting it out there for our clients," says Bickerton.
RAVEN5 is a collaborative and creative group that manages all work in house, from conception to development and deployment. The RAVEN5 team approach ensures timely delivery of services. The company's objectives prior was that of a full service print and graphics firm - providing clients with print & graphics production and deployment services. RAVEN5's objectives are no different. The goal today is to develop relationships that provide value with clients by providing measurable returns while building long-term relationships.
RAVEN5's competitive advantage comes from specializing in five pillars: Google AdWords, Email Marketing, Social Media Management, Content Curation & Contest Marketing. The RAVEN5 team is certified in Google Adwords & Google Analytics. Michael Bickerton is 1 of 14 graduates currently certified by the IAB Canada with an Interactive Master Certificate, as well as Digital Marketing Certified by the Canadian Marketing Association.
-30-
Media Contacts:
Michael Bickerton, Partner, RAVEN5 Ltd.
1 855 543 8345 x222