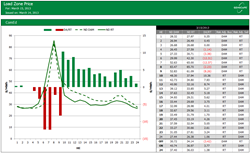 "Our PowerBuyer clients rely on us to give them daily visibility into PJM congestion and price risks so they can avoid surprises and better manage their positions," says Brian McIntosh, head of Genscape's PJM Analyst Team
Louisville, KY (PRWEB) September 04, 2013
Genscape, the premier provider of market intelligence in the United States electric power markets, today announces the expansion of its highly successful PowerBuyer service to the PJM market.
Since launching in April 2012 in ERCOT, over 20 leading retailers, utilities, generation owners and industrials have adopted Genscape's PowerBuyer services to inform their daily buying strategies, reduce power costs and manage risk.
PJM Powerbuyer is a powerful, but easy-to use tool for wholesale participants to manage both price and volumetric risks. Every day, the PowerBuyer report shows hourly price forecasts for the day-ahead (DAM) and real-time (RT) markets for each of PJM's 19 zones, East and West Hub. In addition, retailers and utilities use the new intra-month tab to see their forecasted vs. seasonal load imbalance, enabling them to better understand and hedge their risk inside the month.
PJM PowerBuyer is powered by Genscape's unrivalled proprietary data, fundamental powerflow models and experienced analyst team. PowerBuyer clients receive reports with daily analyst summaries of key market drivers and risks, and can contact analysts with questions by IM or phone. Clients also are invited to quarterly PJM Seasonal Outlook presentations in which Genscape analysts outline market drivers and risks for the upcoming season.
"PJM is unique due to its sheer size and the complexity of congestion patterns," says Brian McIntosh, head of Genscape's PJM Analyst Team, "Our PowerBuyer clients rely on us to give them daily visibility into PJM congestion and price risks so they can avoid surprises and better manage their positions." Clients agree. "Genscape's PowerBuyer is easy to use and consistently identifies low-risk opportunities. It is helping us to reduce our costs. I wish I had this years ago!" says Martin Downey, Senior Vice President of TriEagle Energy.
Join Genscape on Tuesday, September 10th at 2PM EDT for a complimentary webinar featuring ways to gain a powerful market advantage in wholesale power transactions using PJM PowerBuyer. Hudson Gilmer, VP of Commercial Markets, will also present a sneak peek of Genscape's fall PJM seasonal outlook. Registration for the upcoming webinar is available at info.genscape.com/pjm-powerbuyer-webinar-press.
For more information or to request a free trial to see why dozens of leading retailers and other wholesale power buyers rely on Genscape's PowerBuyer to inform their daily bidding and hedging decisions, please visit: info.genscape.com/powerbuyer-press.
About Genscape
Genscape is the leading global provider of energy information for commodity and financial markets. Utilizing patented technologies and proprietary algorithms, Genscape provides accurate and timely data on capacities flow and utilization for all major energy commodities. The product range includes the well-known real-time services for power and gas in North America and Europe. Genscape also delivers fundamentals-based market intelligence services which market participants rely upon to better understand drivers, risks, and dynamics of regional power and gas markets. Genscape is committed to enhancing the market activities of our clients through access to superior fundamental data and market intelligence. http://www.Genscape.com
For all press inquiries please contact:
David Francoeur
Chief Marketing Officer
617-852-8868
dfrancoeur(at)genscape(dot)com