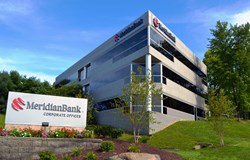 Malvern, PA (PRWEB) September 10, 2013
Meridian Bank Chairman and CEO Christopher J. Annas reported that Meridian earned $2.1 million for the six months ended June 30, 2013, up slightly from the comparable period in 2012.
Return on equity was approximately 11% annualized for the period, and earnings per share were 96 cents. This was Meridian's 12th consecutive profitable quarter.
The results reflect continued solid margins and net interest income from Meridian's loan portfolio, and a robust performance from its residential mortgage division. Loan balances were up 13% from the comparable period in 2013, due both to increases in residential mortgage loans held for sale and in commercial loan volume. Also during the 2nd quarter, Meridian moved its corporate headquarters to a newly-acquired building in Malvern, PA, in the burgeoning Great Valley Corporate Center.
About Meridian Bank: Meridian Bank is a full service commercial bank serving Southeastern Pennsylvania. It offers a complete range of business banking, wealth management, commercial real estate and residential mortgage products and services, based on a philosophy of high-touch, personal service and innovative technology. Follow Meridian on Twitter: @MeridianBank.
###