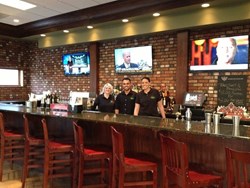 (PRWEB) September 03, 2013
Leading North American restaurant furniture manufacturer RestaurantFurniture.net recently helped Seibel's Restaurant update its bar seating in its Burtonsville location.
Seibel's is a family-run full service restaurant that has been serving traditional American cuisine for almost 75 years. Most of their dishes are family recipes and almost everything is homemade. Founded by owner Buck Seibel, the restaurant started as Seibel's Dairy Bar at its present location in 1939. Seibel's soon began making Super Premium ice cream and became a popular destination for a ride in the country and to enjoy an ice cream cone or milk shake. They continue to freeze super premium ice cream as we have for more than sixty years. We use only the finest fruits, nuts, candies, and fresh dairy products in the making of our ice cream.
Seibel's Restaurant owner Lynn Martin wanted to upgrade the image of the restaurant with new bar seating. He turned to RestarauntFurniture.net to help provide comfortable restaurant seating reputation for fine craftsmanship and quality commercial furniture.
Lynn Martin knows that the comfort of the patrons and the look of the restaurant is very important in maintaining the restaurant's image as a trusted, family friendly establishment for many years. Lynn decided to purchase classic American Schoolhouse Bar Stools to compliment Seibel's décor. The bar stools were a good choice for the restaurant's all-American image, and it's long history.
School House Bar Stools, which are proudly made in the USA sell for only $77 at Restaurant Furniture.net. The bar stools are available in 5 standard finishes and customers can choose a custom finish for a special price. School Bar Stools are available in a saddle shaped wood seat or a padded seat made of vinyl or other fabrics. The padded seats are made in the U.S.A. Restaurant Furniture.net has a wide selection of materials to choose from and custom seats can also be made for a special price.
RestaurantFurniture.net, a company which both manufactures and distributes furniture for businesses in the hospitality industry, specializes in making commercial grade furniture, ideal for a high volume, longstanding restaurants such as Siebel's. "We are equipped to serve high-end, fine dining restaurants as well as quick service franchises with multiple locations," RestaurantFurniture.net's Dave explained. "Lynn Martin wanted to maintain the restaurant's image as an American icon. Because we offer numerous styles, colors and upholstery options on all our chairs, booths, bar stools and tables, we can accommodate the vision of any restaurant," he added. "Lynn was very impressed with the quality of our School Bar Stools and they make a great addition to her restaurant".
Browse RestaurantFurniture.net's selection of chairs, bar stools, booths, table tops, table bases and patio furniture at http://www.restaurantfurniture.net or contact a customer service representative at (888) 409-1115.
Contact Seibel's Restaurant in Burtonsville, MD at 301-421-1897.