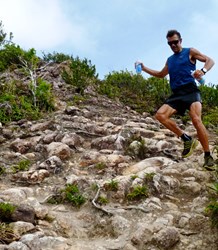 The TomTom Multisport GPS watch is the absolute easiest to use GPS watch we have ever tested and I had it figured out in about 10 minutes
Bozeman, MT (PRWEB) September 05, 2013
TomTom Multisport GPS watch has been given two thumbs up by Heart Rate Watch Company chief product tester John Yarington.
"I talked with John on the phone briefly on Labor Day and he said he like how easy to use it was, how thin and light," says Rusty Squire, President of the Heart Rate Watch Company. He adds, "Yarington said he felt this watch is going to be the best GPS for women he has tested thus far."
Granite Peak- 8 1/2 Hours Car to Car
Congratulations to John on his epic adventure this Labor Day weekend. He ran 8 1/2 hours up nearly 7,000 vertical feet to Granite Peak over almost 20 miles of very rugged mountain running.
Just getting to the summit of Granite Peak is a feat, most people have to camp out and take several days to do it. Less than half make it to the summit of the tallest peak of Montana which falls just shy of 13,000 feet and has 5.4 technical climbing towards the summit.
"To do this in 8 1/2 hours is quite an accomplishment which explains why we call John "DNA Man"," says Squire.
Cycling, Running and Swimming Watch
"John echoed many of the initial thoughts I has when I tested the TomTom Multisport GPS watch," says Squire. He adds, "It's light, thin, acquires satellites super fast, is very easy to use and has great screen resolution."
The watch seamlessly switches between running, cycling and swimming with ease.
There is also a TomTom Runner GPS watch for those that do not need the cycling or multisport capability for $50 less.
Bluetooth Smart Heart Rate Monitor
The other thing that makes TomTom GPS watches somewhat unique is their use of the Bluetooth Smart in their heart rate transmitters. "This means you can use the chest strap with apps on your Bluetooth Smart enabled Smartphone," says Squire. He adds, "This makes the strap handy for gym use at times you don't need the GPS or are not performing outdoor exercise."
"Of course, the watch can do just heart rate for indoor sessions," says Squire.
Easiest to Use GPS Watch We've Ever Tested
"The TomTom Multisport GPS watch is the absolute easiest to use GPS watch we have ever tested and I had it figured out in about 10 minutes," says Squire. He adds, "Most advanced GPS watches can take me a few days of fiddling around to get all dialed in but with the TomTom it was like an old friend in short order."
To talk to a real TomTom GPS watches expert, simply call the Heart Rate Watch Company at 866-586-7129.