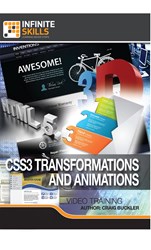 Learn CSS3 Transformations and Animations at your own pace
(PRWEB) September 04, 2013
Software training firm Infinite Skills Inc. last week introduced its "CSS3 Transformations And Animations Training Video," an intermediate-level course designed for CSS3 users with some experience that focuses on key techniques for including transformative elements in web page design.
CSS is a style-sheet language used primarily in web pages written in HTML and XHTML. The CSS format separates presentation elements—the layout, color, and font of a page—from the page content, allowing for greater control in specifying design elements.
Infinite Skills' CSS3 Transformations And Animations Training Video helps experienced CSS users take their skills to the next level by incorporating dynamic transformative elements in their web pages.
CSS3 Transformations and Animations Tutorial Video - DVD
Course author Craig Buckler has nearly 20-years of experience in web design, having shifted from desktop software to web development in 1995, when he built his first web page. Buckler has since developed an impressive freelance practice, balancing large clients such as Thomson-Reuters, Yahoo, and Microsoft, with smaller clients, all while maintaining a pursuit of his interest in client-side development. He also runs a website devoted to technical advice and best practices.
In CSS3 Transformations and Animations Training Video, Buckler first introduces 2D transformations, explaining how to scale and skew images, and apply multiple transformations and matrices. From there, the course explores 3D transformations, explaining how to work in the z-axis, before exploring transitions and how to control their properties.
From there, Buckler moves to animation, teaching users how to work with keyframes and properties, as well as more advanced animation techniques including integration with JavaScript. The course concludes with a chapter looking at specific kinds of animation, featuring animated tooltips, a loading icon, and a sliding 3D menu, among other examples.
As Buckler explains, "In this short but intensive training course, you'll learn how to use some of the most exciting new features to appear in browsers since CSS was created in the early 1990s. Depending on your experience level, you can progress through the course or jump through the lessons as you need them."
Free demo videos and a full list of course contents can be found on the CSS3 Transformations And Animations Tutorial training page on the company website:
http://www.infiniteskills.com/training/css3-transformations-and-animations.html
Infinite Skills offers its CSS3 Transformations and Animations Tutorial either as a DVD or a direct download from the company website at a retail price of $49.95. Infinite Skills tutorials are compatible with both Mac and Windows operating systems. Shipping is available around the globe. Additionally, Infinite Skills tutorials are supported by project files which correspond to examples in the videos.
About Infinite Skills Inc.
A leader in the field of software training, Infinite Skills designs its courses on a task-oriented model, teaching complex skills by providing hands-on examples and guiding users as they carry out essential functions. Infinite Skills offers a wide range of software titles available as DVDs, digital downloads, and in iPad editions, keeping with company aim of delivering professional training to customers anywhere they want to learn.