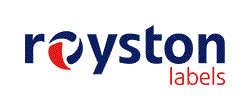 This year we will be showcasing our new range of soft-touch laminates for self-adhesive labels.
Royston, Hertfordshire (PRWEB UK) 5 September 2013
Leading UK label manufacturer Royston Labels will be exhibiting at easyFairs Packaging Innovations London for the second year in a row. The rapidly growing event is taking place at the London Business Design Centre on October 1 and 2.
"This year we will be showcasing our new range of soft-touch laminates for self-adhesive labels," says Stephanie Rogers, Royston Labels Marketing Manager. "This is an exciting new material which provides a means for brands to make their products stand out by appealing to more of their customers' senses."
In addition to the new materials, Royston will be displaying other examples of their extensive labelling capabilities. These include foil blocking, raised and spot varnishes, glitter and colour -shift effects, antimicrobial solutions, peel n' read labels, multi-page labels, and ultra-clear labels.
"We're dedicated to remaining at the cutting edge of labelling innovation, and our focus has always been on delivering a phenomenal quality standard of the labels we create." Explained Miss Rogers, "We also enjoy the opportunity (that Packaging Innovations provides) to meet customers face to face."
Packaging Innovations London is now in its fourth successful year. The event provides vital inspiration and ideas for packaging professionals, as well as information about the latest trends and advances on the market.
Royston Labels has over 25 years of labelling experience, and the capabilities required to deliver decoration solutions for every kind of packaging. To find out more visit Royston Labels on Stand B4, easyFairs Packaging Innovations London, October 1 and 2.
Notes for editors:
Founded in 1984, Royston Labels is a multi-award winning manufacturer, specialising in top quality, fit for purpose labels that are certified to ISO 9001 and PS 9000 standard. Royston Labels are passionate about labels, understand the power of labels to add brand value and communicate product identity, and are dedicated to ensuring excellence in service.
http://www.roystonlabels.co.uk
For more Information please contact:
Stephanie Rogers, Marketing Manager