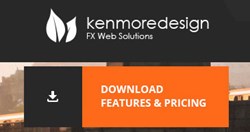 Boston, Massachusetts (PRWEB) September 04, 2013
Kenmore Design, a leading forex web developer based in Boston, USA, has announced the unveiling of the new Trader's Room for Enterprise and High-Volume Brokers. Following the success of the Trader's Room online portal for forex brokers, the new software is tailored specifically to meet the needs of high-volume brokerages. Trader's Room for Enterprise joins a line of innovative and user-friendly products that have made Kenmore Design a leader in forex web development and MT4 integration.
The new Trader's Room for Enterprise software package provides the same easy management of MT4 accounts and administrative tasks as the original Trader's Room, while expanding on the functionality. The broker's internal development team can expand and customize all of its features, and will enjoy working with the clear refactored code. The code base includes Trader's Room files, CRM/Task Manager, the database, and all of the MT4 API that translates the trading platform MT4 Manager API into the modern JSON RESTful API.
According to Kenmore Design CTO Hugo Leclancher, "The new Trader's Room package was developed with the needs of larger, established brokerages in mind. The MT4 JSON API can be used to interact with MT4 using any programming language or platform and can perform all of the actions permitted by MT4 Manager. Our hope is that the Trader's Room for Enterprise will do for larger brokerages what Trader's Room did for start-ups, on a larger scale."
The Trader's Room for Enterprise is now available to referred brokers only. It will become available to the public by late fall 2013.
For smaller brokerages, a new version of the original Trader's Room will soon be available. The updated Trader's Room will offer new and improved features like Multi-Level IB support, MAM/PAMM support, multi-lingual extensions, and more, said Alex Sherbakov, CEO and VP of Sales.
Kenmore Design will continue to offer MT4 for MAC and MT5 for MAC applications, forex web design services, and a variety of other tools for forex brokers.
Learn more about Kenmore Design and Forex Web Solutions here:
https://www.kenmoredesign.com/forex