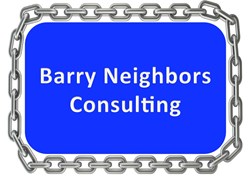 Performance and efficiency is no long an option in today's A&D supply chain.
Los Angeles, CA (PRWEB) September 06, 2013
In response to our work overseas, Barry Neighbors Consulting announces an expansion of our services into the global Aerospace and Defense supply base. Barry Neighbors Consulting, an aerospace and defense supply chain consulting company offers critical insights and customized solutions to A&D suppliers to boost their market share and revenue. Our user-friendly website showcases the business solutions offered by the firm with the full range of their services, an informative blog and testimonials from previous clients.
Barry Neighbors Consulting partners with aerospace and defense suppliers to design the best strategy and approach in this increasingly competitive market. With extensive experience in the industry, Barry Neighbors Consulting focuses on the supply chain requirements and is able to offer expert advice and guidance, together with sales and marketing development, to suppliers, resulting in increased sales and improved profits. The company offers OEMs (original equipment manufacturers) and larger contractors a process-oriented approach to assessing, managing and optimizing their supply chain.
"It is our vision to become the pre-eminent global supply chain consultancy," says founder Barry Neighbors. "We are passionate about what we do and offer our clients full accountability and the assurance of high-quality work. Our clients' success is our primary objective."
In the highly competitive world of aerospace and defense, it is essential that executives pay close attention to not only their pricing, but also their operational performance. Industry and government budget constraints are challenges, but these can be overcome. With many years of experience, the team at Barry Neighbors Consulting can offer solutions that will optimize efficiency, performance and industry visibility. Correctly applied, these result in vast improvements in sales and profitability.
"We maintain one of the world's most complete databases of aerospace and defense sourcing executives and contacts," says Neighbors. "Our expertise and relationships can give you the competitive edge you need to increase your market share in this industry."
Barry Neighbors Consulting also offers online services to clients. The initial consultation is free, with no obligation. The firm's aim is to offer tailored solutions based on a thorough understanding of clients' business needs. For more information, please visit http://www.barryneighbors.com .