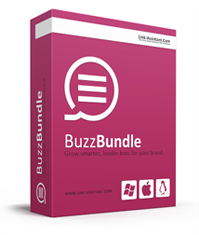 From now on, every SMM can explore BuzzBundle advanced functionality and test the features that used to be available only to the paid users.
Minsk, Belarus (PRWEB) September 03, 2013
Link-Assistant.Com, the leading SEO and SMM software provider and the company behind SEO PowerSuite and BuzzBundle, releases an updated version of their social media marketing tool. Now all BuzzBundle Free users have got the ability to test the functionality of the paid edition almost in full. The paid features that will be available for a 15-day trial include:

scheduling various SMM activities;
creating 2 different Personas;
saving history of social media communications;
tracking a larger amount of brand mentions (up to 70%).
The updated version also lets users rank any content on Google+. And on top of that, users don't have to wait until all project data gets updated - now they can segment their platforms the way they want and get an update on as much as they need.
*Why social media management software?*
These days, social media has become a powerful platform for implementing online marketing campaigns. Hence, effective management of multiple social media channels can create brand credibility, improve advertising and marketing interaction and enhance conversion rates.
An all-in-one SMM tool can significantly simplify the workload of an SMM manager. This type of software automates the processes of collecting and analyzing data, lets users efficiently manage multiple communities and profiles, track and manage brand popularity on the Web and a lot more.
About the updated version of BuzzBundle.
"We are proud that BuzzBundle is highly rated in the SMM community for its abilities to effectively handle a wide scope of SMM activities and provide a wealth of valuable data," says Viktar Khamianok, CEO, Link-Assistant.Com.
"And we are pleased to announce that now every SMM can explore the advanced functionality of our software and test the features that used to be available only to the paid users. We have enhanced the free version of our SMM tool because we felt there was a gap between how really helpful BuzzBundle Professional can be and how BuzzBundle Free failed to show that. The recent update has minimized this gap," explains Viktar.
"We are also sure that such new options as the ability to rate Google+ content and update individual streams will be of great help to all BuzzBundle users," sums up Link-Assistant.Com CEO.
BuzzBundle v2.3.2 opens new opportunities to all its users. Now those who decided to test the tool before purchasing the paid version can access almost all its features for a 15-day period (click here for more details). In addition, the updated version of the tool is capable of:
adding '+1' to any content found on Google+;
collecting mentions for each individual stream.
Keen on social media marketing software? Join Link-Assistant.Com on Facebook fb.me/LinkAssistant, Twitter @LinkAssistant or Google Plus gplus.to/LinkAssistant.
About Link-Assistant.Com
Founded in 2005, Link-Assistant.Com is a leading niche innovator that produces all-in-one solution for bloggers, SEO freelancers and SEO agencies. Link-Assistant.Com's SEO and SMM tools, SEO PowerSuite and BuzzBundle, are designed to research, monitor, analyze, plan and report on SEO, SMM and other internet marketing campaigns. To be in the know of Link-Assistant.Com's news, read the company's SEO blog.