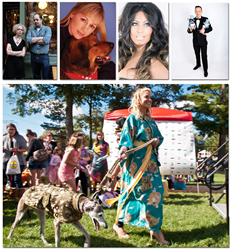 This event is is so special because it allows shelter pets to take center stage, and shows people the power of love. It's fashion with compassion.
New York, NY (PRWEB) September 05, 2013
"Unleash the Love 2" Canine Fashion Show
Sunday, September 15th Sponsored by Sent-Well
Celebrity Judges: Science Channel's Evan Michelson & Mike Zohn, Animal Precinct's Annemarie Lucas, Style Network's Tracy Dimarco
And Pet Couturier Anthony Rubio
To Be Held During Mt. Pleasant Animal Shelter's Mutts Mania
Lurker Park, East Hanover, NJ
On Sunday, September 15, the dogs rule the catwalk at Unleash the Love 2, a star studded, canine couture fashion show sponsored by Sent-Well.com along with premium sponsor Wash n' Wiggle. The fashion show will take place at Mt. Pleasant Animal Shelter's annual Mutts Mania which draws a crowd of approximately 1,500 patrons. Ticket cost for Mutts Mania is $10 for adults, children and pets are free. All proceeds benefit shelter animals.
The theme for Unleash the Love 2 is a Vintage Carnival, complete with celebrity judges and beautiful fashion models to escort our furry friends in their finest. Expect to be awed by lions and lion tamers, pirouetting pooches, knife throwers, snake charmers, burlesque dancers – as these furry fashionistas strut their stuff along with their escorts, for charity.
Celebrity guest judges include:
Evan Michelson & Mike Zohn, of the Science Channel's hit TV show ODDITIES, animal advocate Annemarie Lucas, star of the long running reality TV series Animal Precinct, internationally acclaimed pet couturier Anthony Rubio and Tracy DiMarco, of the Style Network's TV show JERSEYLICIOUS.
The first 25 people registered for the fashion show are eligible for a MEET & GREET with the celebrities from 1:30pm - 2:15pm. To register to enter the fashion show, please e-mail info(at)sent-well(dot)com. There are three judged categories: 1) Best Dressed Owner & Pet Duo, 2) Best Vintage Carnival Costume, 3) Most Creative Costume. Winners will receive prize baskets, filled with gifts from our sponsors. First 25 registered will also receive a doggie bag with lots of treats and goodies from the sponsors: Wash n' Wiggle, Pup Culture Magazine, K9 Resorts Fairfield, Bubba Rose Biscuit Co, Luxe Mutt, Big Cat Coffee, Pawsitive Experience Pet Services, EKammeyer Accessories, Bully Dog Designs and etsy shop JB Ranch Ohio.
WHAT: Unleash the Love 2, a couture canine fashion show, benefiting
Mt. Pleasant Animal Shelter
WHO: Science Channel's Evan Michelson and Mike Zohn
Animal Precinct's Annemarie Lucas
Style Network's Tracy DiMarco
Acclaimed pet couturier Anthony Rubio
WHEN: Sunday, September 15, 12:00- 4:00 PM EST (rain or shine)
*Models walk the catwalk at approx. 2:30 PM
WHERE: Lurker Park, Eagle Rock Avenue, East Hanover, NJ 07936
For more information regarding Mutts Mania please visit http://www.njshelter.org. To view Sent-Well's new line of custom pet stationery, go to http://www.sent-well.com.
More about Sent-Well: Sent-Well specializes in pet greeting cards and custom pet stationery. at Sent-Well.com you can choose real cards conveniently online, and they will hand write your personal message inside, stamp and send them.. Sent-Well understands the importance of thoughtfulness, and believe that a handwritten note communicates in a way no text or email can.
More about Evan Michelson & Mike Zohn: Science Channel's ODDITIES shows us the weird world of collecting bizarre antiques, where the customers are as odd as the artifacts. Everyone and everything from the world's smallest escape artists to light bulb eaters, from two headed ducks to three legged chickens, find their way here. The show takes place at New York City's foremost destination for one-of-a-kind, bizarre and often shocking artifacts: Obscura Antiques & Oddities. The gang at Obscura, which includes owners Evan Michelson and Mike Zohn have already won over legions of viewers and inspired 'colorful' collectors throughout the U.S. The show, a hit for the network, now in its fourth season continues to expand its exclusive club of the odd and unusual subculture, group that Science Channel celebrates every day.
More about Annemaire Lucas: Annemarie Lucas has been protecting animals for over eighteen years and is known world wide as a woman who stands up for those who cannot speak for themselves. She has saved thousands of animal victims, and has brought their abusers to justice as an Animal Cop for a large Humane Organization in NYC. She starred in the long running series Animal Precinct on Animal Planet, which highlighted her work on the streets of NYC. Her tenacity and passion for protecting animals has made her a trustworthy and reliable source for animal lovers everywhere. She began her career in the animal welfare field at The Little Shelter on Long Island. Annemarie is a true animal advocate and believes that all animals deserve our compassion, and our protection, from abuse. She and her husband Danny reside in Putnam County, New York, with their many rescued cats, dogs, and their horse Tucker.
More about Tracy DiMarco: Tracy DiMarco stars on Style Network's docu-soap "Jerseylicious." For six seasons, the cameras have followed hair stylists and makeup artists at the Gatsby and Anthony Robert salons from their big hair, smoky eye and artsy nails to their real-life drama with one another. As Tracy continues to hone her skills as a hair stylist, keeping up with the latest trends and styles and looking for ways to expand her business, this new season also documents her journey to the altar as she plans to say "I Do" to her best friend and love of her life, Corey Epstein.
More about Anthony Rubio: Internationally acclaimed Pet Couturier Anthony Rubio's one of a kind creations have been featured on Good Morning America, TMZ, Perez Hilton, The Today Show, CBS morning show Live From The Couch, Fox's Good Day New York, CNN, USA Today, Anderson Cooper's talk show, New York Times among many others.
More about Mt. Pleasant Animal Shelter: Mt. Pleasant Animal Shelter is a non-profit 501(c)(3) animal welfare organization that is 100% privately funded. Their mission is threefold: To provide exceptional care for homeless animals, to promote spaying/neutering, microchipping and humane education, and to place homeless cats and dogs in permanent, loving homes. At Mt. Pleasant Animal Shelter, no animal is ever euthanized due to lack of space.
# # #