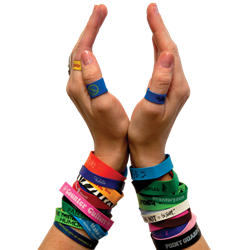 Hot Springs, AR (PRWEB) September 05, 2013
Ad Bands division of Alliance Rubber Company was recently honored for Advertising Excellence and Outstanding Achievement in the Readex Research Ad Readership study conducted on behalf of Advantages Magazine.
Readers evaluated advertisements in the mid-April issue of Advantages magazine. They were asked for feedback on whether or not each ad was effective in the key areas of advertising: attention-getting ability, believability and information value. Readers also provided feedback by responding with a verbatim comment on what message or feeling they got from an ad.
Readex Research, a company with 60 years of experience in advertising research, conducted the study. Ad Bands had the highest rating in the general products category and tied for the third-highest rating overall.
"We're always thrilled when our hard work and creativity is honored," said Bonnie Swayze, president of Alliance Rubber Company. "The promotional industry is an important and growing industry for us, so this particular award is very gratifying."
Ad Bands is the promotional division of Alliance Rubber Company, a leading provider of custom promotional and packaging products. Ad Bands were created in 1986 as the "Original Printed Rubber Band." Products include wristbands, as well as packaging for health and beauty, food and beverage, and entertainment. The packaging component offers customers the ability to reinforce their brand messaging to the consumer by providing bundle product combinations or an add-on gift with purchase. They are particularly effective packaging for hair care products, cosmetics and fragrance gift sets. FDA-approved for food contact, Ad Bands also offers freezer- and microwave-safe options to secure take-out food and preserve freshness. At the same time, the bands' reusability offers continued interaction with the consumer. Ad Bands for entertainment enhance product launches and help promote events with their ability to be autographed and to secure DVD/CD/audiobooks.
About Ad Bands
Ad Bands® is a leading supplier in the promotional products industry. Offering "Quality Printed Products," the division continually brings new products to the industry, providing fun and original ideas to help distributors succeed. Ad Bands strives to satisfy patrons through innovative resources, combining technology with personal touch.
About Alliance Rubber Company
Since 1923, Alliance Rubber Company has been dedicated to "Holding Your World Together." The company has grown into a global leader with more than 2,100 skus of mailing, shipping, office and packaging products sold through dealers in 28 countries. Under the current leadership of President Bonnie Swayze, Alliance continues its long history of innovation. Pioneering the women's entrance into the boardroom, Swayze was the first female board member of the Wholesale Stationers Association, and has served on the WBENC board and other HUB organizations.
SOURCE: Alliance Rubber Company