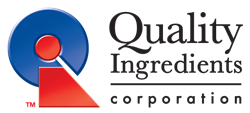 Burnsville, MN (PRWEB) September 11, 2013
Quality Ingredients Corporation is pleased to announce the completion of its expansion to double capacity for specialized spray drying of food and nutritional ingredients in its Burnsville, Minnesota location. The expansion provides both greater capacity and flexibility to meet growing demand for highly specialized processing of custom ingredients, and leverages the company's expertise in precision drying technology and encapsulation. Two new customized dryers, each installed in isolated facilities, offers customers flexible contract spray drying services for sophisticated, specialized projects ranging from colors and flavors to nutritional ingredients for functional foods.
"As consumers increasingly seek functional ingredients in the foods they eat, our customers – food manufacturers – increasingly need partners who can encapsulate these sensitive, high-value ingredients and make them shelf stable," notes Isabelle Day, Quality Ingredients Corporation's CEO. "Everything from the right healthy oil to a volatile natural color or flavor in liquid form must be carefully dried to precise specifications to meet their needs and, ultimately, consumer expectations."
Bob Freemore, Chief of Operations for the company is excited about the capabilities the additional equipment offers. "Customers have raised the bar concerning the caliber of precision and skill they seek from food ingredient suppliers. Fewer and fewer providers of contract spray drying services are truly up to the challenge. With our SQF certification, a highly experienced scientific and engineering team, and now these new, isolated dryers, we are poised to be one of the few companies who can provide such specialized service," notes Freemore.
The company expects further growth as it tailors its capabilities and operations to meet changing market requirements. "The combination of the right equipment and the right team of scientists, engineers and operators enables us to earn the trust and confidence of our customers, and we stand ready to support them as their needs change," said Day.
###
For More Information:
Carmen Brooks
Quality Ingredients Corporation
cbrooks(at)qic(dot)us
952-435-1439
About Quality Ingredients Corporation
Celebrating more than 25 years of service to the food and nutrition industries, Burnsville, Minnesota-based Quality Ingredients is a 100% Employee Stock Ownership Plan (ESOP) company leveraging expertise in spray drying technology to create proprietary and custom powdered ingredient systems as well as contract spray drying and blending services for food processing companies across North America and beyond. Please visit http://www.qic.us for more information.