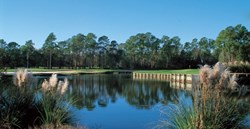 Earning a place in a national event with the top assistant golf professionals in the country is a tremendous accomplishment
Myrtle Beach, SC (PRWEB) September 04, 2013
Pine Lakes Country Club assistant golf professional Ryan Tyndall qualified for the upcoming National Car Rental PGA Assistant Championship with an impressive showing at the recent Carolinas PGA Assistant Championship.
Tyndall shot rounds of 71 and 67 for a 4-under-par 138 total Aug. 5-6 at The Hasentree Club in Wake Forest, N.C., to earn one of the Carolinas PGA Section's five qualifying spots for the Oct. 31-Nov. 3 at PGA Golf Club in Port St. Lucie, Fla.
Tyndall, who finished sixth at The Hasantree Club, five strokes behind winner Charles Frost of Pineville, N.C., was one of only seven players from the Carolinas to advance to PGA Golf Club. Frost and Scooter Buhrman of Fayetteville, N.C., were exempt from qualifying after tying for third at PGA Golf Club in 2012
Tyndall will be one of only 126 players representing all 41 PGA of America sections at PGA Golf Club. With a top-four finish there, Tyndall would qualify for the 2014 PGA Professional National Championship at Grande Dunes Resort Course and The Dunes Golf & Beach Club in Myrtle Beach.
Like Pine Lakes, Grande Dunes Resort is one of 22 Prime Times Signature Golf Courses in the Myrtle Beach area owned or managed by National Golf Management.
"We're very proud of Ryan," said Bob Mauragas, president of National Golf Management. "Earning a place in a national event with the top assistant golf professionals in the country is a tremendous accomplishment."
Tyndall, a University of Georgia graduate, has worked for National Golf Management since February 2012, including posts at Wild Wing Plantation and Willbrook Plantation.
About National Golf Management Company
National Golf Management Company (NGM) is the foremost golf course management company in the Southeast. Formed in 2012 with a merger of Myrtle Beach National Company and Burroughs & Chapin Golf Management, NGM oversees, through ownership and/or management, 22 Prime Times Signature golf courses in and around Myrtle Beach, S.C., one of the world's most popular golf destination markets. This makes NGM one of the largest golf management entities in the United States.
NGM administrates http://www.MBN.com, a leader in online tee time booking, as well as package outlets Ambassador Golf and Myrtle Beach Golf Trips. With the help of MB Golf Insider.com's 100 percent player-generated course ranking system, thousands of golfers plan and assemble their ideal golf itineraries through NGM, including "top-100 caliber" courses Pawleys Plantation Golf & Country Club, Grande Dunes Resort Club, King's North at Myrtle Beach National Golf Club and over 80 other Myrtle Beach area courses.