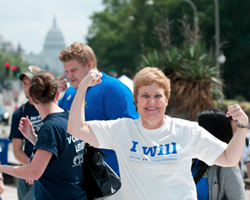 Check-in for Good can help this powerful observance by providing people with a very simple tool to take action to help causes they care the most about.
Raleigh, N.C. (PRWEB) September 04, 2013
The new partnership between Check-in for Good, a digital fundraising application, and the 9/11 Day Observance, the non-profit movement to observe September 11 every year as a national day of service and remembrance, will provide 9/11 Day participants with powerful new ways to translate their verbal "I will" pledges into donations benefiting their favorite charities.
"This year we wanted to provide new ways for our participants around the nation to help charities that interested them, and this new collaboration with Check-in for Good will provide a great way for them to leverage their buying power as consumers locally to raise funds for these causes," said David Paine, president and co-founder of the 9/11 Day Observance.
Through Check-in for Good, pledgers will be able to set up a donation platform for free or donate directly to MyGoodDeed, the 501(c)3 nonprofit that founded and organizes the 9/11 Day Observance each year. Check-in for Good also has pledged to donate all fees incurred on 9/11 from its nationwide fundraising campaigns to MyGoodDeed to assist their continued work to support the federally recognized September 11th National Day of Service and Remembrance.
"9/11 Day has become so successful and important in this nation because it provides a positive, forward-looking way for individuals and businesses to give back to their communities and the country in tribute on September 11," said Check-in for Good co-founder Rob Katz. "Check-in for Good can help this powerful observance by providing people with a very simple tool to take action to help causes they care the most about. We can't think of a more fitting tribute to align ourselves with than 9/11 Day."
Check-in for Good registered campaigns are run securely through GuideStar, a 501 (c3) that collects, organizes and provides non-profit information to donors around the world. The credibility that GuideStar brings to the platform gives Check-in for Good users and supporters the confidence to know donations they collect will flow directly to the cause they are supporting and be used to make a difference. Users can support any of the almost two million registered causes, including MyGoodDeed, by picking a cause and starting a crowd-funding campaign or connecting a cause with a business to raise money through customer check-ins.
About Check-in for Good:
Check-in for Good, http://www.checkinforgood.com, is an LLC, formed in October 2011. Our mission is to provide the most effective fundraising and awareness tool for causes; and be a traffic driver and social marketing tool for retail business. The digital platform leverages the power of groups through emerging mobile, social and location-based technology. Check-in for Good operates out of Raleigh, N.C. Visit us on Twitter @checkinforgood.
About 9/11 Day:
The 9/11 Day of Service inspires people to engage in charitable activities and good deeds in observance of 9/11, transforming September 11 into America's largest annual day of charitable activity. The campaign, themed "I Will," asks all Americans to perform at least one good deed on 9/11, and asks, "What Will You Do This 9/11?" The group maintains a website, 911day.org, where individuals and groups can share their plans and dedicate their service to 9/11 victims and heroes by name, download toolkits and lesson plans, and search for volunteer opportunities. 9/11 Day is organized each year by the 9/11 nonprofit MyGoodDeed, a 501c(3) tax exempt organization. Supporters are encouraged to "like" the 9/11 Day Facebook page at http://facebook.com/911day, and follow the observance on Twitter at twitter.com/911day, hash tag #911day.