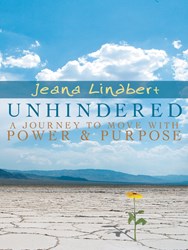 Wilmington, NC (PRWEB) September 05, 2013
A new book by Jeana Lindbert gives a personal account of her own strains in life to teach women of faith to move forward from regret and begin living in the present.
Unhindered gets women moving, walking a path of unwavering, unrestricted faith for God. Through a vulnerable account of Lindbert's personal experience with God as a mother, wife and child of God, the book takes women on a journey to develop stronger faith and to begin living fully in the present and without regret. Seeing God with such an unwavering faith means as Christians, we can listen to His messages and act swiftly without fear.
Using personal stories from Lindbert's experience as a parent, Unhindered gives confidence to women by helping them let go of control, removing emotional immobility and listening to that voice inside that calls us to action.
While describing an appearance on a local television show where she felt her children had acted out, Lindbert received a phone call. "Just when I thought I couldn't get any lower or more down on myself [as a parent], the phone calls came in. One friend talked about how funny the show was and how the show reflected almost every day in her home…she felt all alone before that day."
Every mother seems to have a story much like this one that makes her feel like an awful parent. Lindbert hopes her book can help women feel less alone and more empowered to feel confident with God.
Lindbert also wants readers to use this book to strengthen their spiritual relationship and focus efforts where it is most important, removing society's distractions.
Unhindered
By Jeana Lindbert
ISBN: 978-1-4497-8777-6
Paperback: $11.95
Available at http://www.amazon.com.
About the author
A mother of four boys, Jeana Lindbert is a leader in her home church. She attended Liberty University in Virginia and loves being creative. After many opportunities to write curriculum and devotionals for her home church, Lindbert discovered that she could share her experiences with God for other women of faith. Lindbert resides in Leland, NC with her husband and four children.
For review copies or interview requests, contact:
Brittani Hensel, Account Coordinator
317-602-7137 | bhensel(at)bohlsengroup(dot)com
(When requesting a review copy, please provide a street address.)