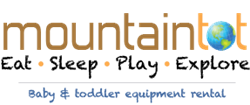 We are traveling parents just like our customers and understand the challenges of traveling with young children - its not easy!
Dillon, CO (PRWEB) September 04, 2013
Thousands of parents are flocking to baby and toddler equipment companies worldwide to help lighten their loads and make traveling with children less challenging. One new service has tapped into this market providing parents the resources they need while vacationing. MountainTot was launched by Summit County residents Mike and Anna McGoff in August because "we wanted to provide parents with more options to have the same comforts of home for their children while traveling."
McGoff continues, "We are traveling parents just like our customers and understand the challenges of traveling with young children—its not easy! After using services similar to MountainTot, we decided to bring our experience to the many families that travel to Colorado resorts each year. Our focus is on quality, affordability, convenience, and superior customer service; so our customers can be assured that they are getting clean and safe equipment for their children."
Since launching in August, MountainTot has seen a steady increase in sales and solid demand from customers all over the world. McGoff remarks, "We are really getting geared up for the winter travel season and expect that more-and-more families will turn to our service as people become aware of this option. We have received really positive comments from our customers and the business community."
If you find yourself traveling to Breckenridge, Copper, Keystone, Silverthorne, Frisco or Dillon, MountainTot can help lighten your load and save time. "You can't bring a crib, pack n play, or high chair on a plane, nor do you want to spend the time and money to purchase something that you can't bring home with you. We're also seeing customers that drive and don't want to load their car down with gear; and we have received rental requests from grandparents who need items for their visiting grandchildren," McGoff said.
With the baby and toddler equipment rental trend continuing to grow nationwide, MountainTot and other companies expect to see continued growth as the offer expanded service to parents. "We expect to expand into other areas within Colorado in the coming years to support increasing demand for our services. Our online reservation technology is really unique in the industry as we can provide a seamless online experience coupled with the personal interaction that our customers expect," said McGoff.
About MountainTot
MountainTot provides the resources that parents need to make traveling with children fun and convenient. We offer a full line of top quality baby and toddler equipment including full-sized cribs, high chairs, baby swings, bouncers, baby monitors, and even snowshoes and outdoor equipment for the little ones.
In addition, MountainTot operates a travel blog dedicated to providing travel and insider tips for parents traveling to Colorado at mountaintot.wordpress.com.
MountainTot is locally owned and operated in Summit County, Colorado and is a member of Baby Travel Pros professional organization dedicated to providing safe, clean, high-quality baby equipment rentals throughout the U.S. and Canada.
MountainTot Gear, LLC
265 Dillon Ridge Rd.
Suite C PMB 170
Dillon, CO 80435
Website: http://www.mountaintot.com
Email: info(at)mountaintot(dot)com
Phone: (970) 368-4447
Twitter: @MountainTotGear
Faceboo: http://www.facebook.com/pages/Mountaintot-Gear/156711787844432