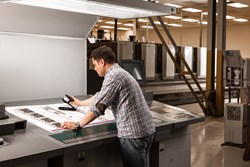 Grand Rapids, Michigan (PRWEB) September 05, 2013
X-Rite, Incorporated with its wholly owned subsidiary Pantone LLC will showcase award-winning solutions for the measurement, management and communication of color at the PRINT 2013 trade fair to be held Sept. 8-12 at McCormick Place, Chicago.
As part of those offerings, X-Rite Pantone representatives will demonstrate a new trolley for the recently introduced eXact spectrophotometer that enables pressroom personnel to improve color workflows. Pressroom personnel can use the trolley to smoothly read color bars on a variety of printed materials, such as packaging with multiple color bars. The accessory extends the sophisticated measuring system of eXact to a wide array of printing equipment, including older offset presses with no automated color controls.
Visitors will be able to view the eXact scanning demonstration at any of the following booths of the company's value chain partners:

Esko , booth 4231;
Fujifilm, booth 1218; and
ColorHQ, booth 4238.
The eXact spectrophotometer makes color measurements quick and easy for brand managers, pre-media, ink suppliers, printers and converters, while solving the widespread problem of measuring and matching colors on various substrates and surfaces.
Visitors to the Esko booth can learn about PantoneLIVE™ ecosystem that delivers brand color consistency across the entire packaging supply chain. PantoneLIVE is a cloud-based repository of precise spectral data for PANTONE Color Libraries. Designers and brand owners specify the desired Pantone colors using Adobe® Illustrator™ plug-ins such as PantoneLIVE Color Book and Viewer. Premedia personnel can access correct color files using Esko ColorEngine and generate proofs of the work using Esko FlexProof E.
X-Rite expert Ray Cheydleur will be educating visitors on the latest advances in colorimetry as it relates to tolerancing standards during a panel discussion at 2:45 p.m. Sept. 9 at booth 4877 sponsored by IDEAlliance. Senior technology and business managers responsible for quality and process control of premedia and print production are encourage to attend the program.
X-Rite representatives will also demonstrate the redesigned i1Pro 2 spectrophotometer that provides a higher level of accuracy, versatility and functionality for the prepress and pre-media departments. The i1Pro 2 spectrophotometer has garnered the 2013 iF Product Design Award, the 2012 InterTech™ Technology Award and the red dot design award in 2012.
In addition, visitors can learn about:

NetProfiler 3.0, a software package that makes it easy for eXact customers to optimize, verify and ascertain on a regular basis that their instruments are calibrated to a single virtual standard with handheld and benchtop spectrophotometers used at locations globally.
InkFormulation 6, a software for rapidly calculating optimal recipes. The software helps printers and ink suppliers speed up the ink formulation process (including liquid inks and special inks), with consistent, reproducible results on a broad variety of substrates and ink film thicknesses, including transparent films and metalized substrates.
For more information, please refer to the http://www.xrite.com website.
About X-Rite
X-Rite, Incorporated with its wholly owned subsidiary Pantone LLC is the global leader in color science and technology. The company develops, manufactures, markets and supports color solutions through measurement systems, software, color standards and services. With main headquarters in Grand Rapids, Mich. and regional headquarters in Regensdorf, Switzerland and Hong Kong, China, X-Rite helps customers with a full range of color management systems and solutions offered through dealers and more than 20 company-owned manufacturing facilities, sales and service offices in the Americas, Europe and Asia. X-Rite serves a range of industries, including printing, packaging, photography, graphic design, video, automotive, plastics, paint, textiles, dental and medical.
About Pantone
Pantone LLC, a wholly owned subsidiary of X-Rite, Incorporated, has been the world's color authority for nearly 50 years, providing design professionals with products and services for the colorful exploration and expression of creativity. Always a source for color inspiration, Pantone also offers paint and designer-inspired products and services for consumers. More information is available at http://www.pantone.com. For the latest news, trends, information and conversations, connect with Pantone on Twitter, Facebook and Pinterest.
©2013 X-Rite, Inc. All rights reserved. X-Rite is a registered trademark of X-Rite, Inc. All other trademarks are the property of their respective owners. PANTONE® and other Pantone trademarks are the property of Pantone LLC. © 2013. All rights reserved.