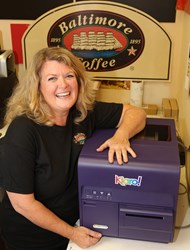 One of our largest grocery chain customers told me that Eastern Shore Tea sales have increased 50% since we installed the Kiaro!.
West Warwick, RI (PRWEB) September 05, 2013
QuickLabel Systems, an Astro-Med, Inc. (NASDAQ: A LOT) business unit, has released a video interview with Baltimore Coffee & Tea Company to document how the maker of teas and coffees has increased sales by 40% by printing their own labels with the Kiaro! inkjet label printer.
The new video can be viewed on the QuickLabel website, on the QuickLabel blog, and on QuickLabel's YouTube channel at Youtube.com/QuickLabel.
Eastern Shore Tea Company is a brand of Baltimore Coffee and Tea, a privately owned company that makes coffee and tea for their own stores across Maryland, and private label vendors such as museums, grocery stores, and high-end boutiques across the country.
Recently, President Stanley Constantine purchased the Kiaro! inkjet label printer in order to increase sales by boosting the quality of labels on Eastern Shore Teas and teas for private label companies, and to reduce production time and cost-per-label.
"It's interesting," Constantine says, "Since we installed the Kiaro!, our tea sales have increased an average of about 40%." He later ads, that while 40% has been the standard, some grocers have seen higher increases in sales. "Actually," says Constantine, "one of our largest grocery chain customers told me that Eastern Shore Tea sales have increased 50% since we installed the Kiaro!."
Baltimore Coffee & Tea is devoted to a painstaking tea making process, and to giving the ultimate customer service. Both the process and the service are traditions, and form the foundation of their business, and while they're largely responsible for sales, Constantine attributes the recent boost to the Kiaro!.
"We haven't changed anything - except the label quality," says Constantine, when talking about the enormous and sustained 40% jump in tea sales, "I'm pretty convinced that the Kiaro! is responsible."
How the Kiaro! Did it
"As I said before we've changed nothing else. We've changed none of our recipes, none of the other elements of our packaging, save for the increased quality of the Kiaro!," says Constantine. "It has improved our packaging ten-fold , and that's really supported by the increase in sales that we've experienced."
Linda Lang, manager of the Eastern Shore Tea brand and 11-year-employee, believes the labels look amazing.
"It's just amazing how good the Kiaro! can make the labels look," she says, "the colors are rich and bright - it's just completely changed the way the artwork on the labels looks."
Stanley Constantine agrees. "The Kiaro! color rendering is dead on," he says, "label stock is always dead on, it never changes. We are just as happy as we could possibly be with the Kiaro!."
Private Labeling with the Kiaro!.
Baltimore Coffee & Tea has seen a large growth in customers requesting private label services, which they are uniquely set up to do because they're totally vertically integrated.
"The Kiaro! has helped us with that goal," explains Constantine, "because it's so easy and effortless for us to create private labels for all of our customers."
Baltimore Coffee & Tea creates private label teas for major museums, grocers and gourmet food stores around the country, but also for private functions and smaller parties.
"It's effortless," says Constantine, "one of our strong points is that our private label minimum is only 24 pieces. The reason it's so low is because the Kiaro! is just effortless. We can easily print and go to production and it's out the door the same day. It's made our life a lot easier."
Printing Tea Labels on Demand
Baltimore Coffee & Tea went with the Kiaro! because they needed to print labels on demand, and as needed. "In the past we would have to order 10,000 of every single label. Now," says Constantine, "we print over 300 SKUs on the Kiaro!. The ability to print on demand has saved us an incredible amount of money because we're stocking only blank labels and we print as we need."
Linda Lang loves how the Kiaro! has eliminated their inventory of pre-printed labels. "The labels aren't sitting on the shelf for long periods of time. It's just so easy to go and print a few labels with the Kiaro!." With the Kiaro!, Eastern Shore Tea Company prints large or small print runs, at 8 inches per second, for immediate, on demand label printing.
"The Kiaro! has definitely made my life easier," says Lang, "it takes less time to print the labels, there's less prep time for it - it's definitely made things easier here."
A Different Approach to Tea
"Eastern Shore brand teas differ from most national brands in a couple of different areas," says Constantine. All of their teas are flavored naturally: they use real spices in their teas , not liquid flavorings, so in their teas you'll find real clove, real cinnamon, real ginger, real lemon grass.
Some companies use fannings, other tea companies sell pyramid bags, in which they simply insert whole, full leaf tea, "which is akin to putting coffee beans in a coffee maker," says Constantine.
Constantine starts with full leaf tea, and then to increase surface exposure, uses a hammer-mill to cut the leaves down to tea-bag size.
It's extra work and costs a little more, but "everything we do costs more. For us," explains Constantine, "it sounds old fashioned, but we won't sell anything that we wouldn't drink ourselves."
They use two types of tea packaging: their classic, radiant-white ribbon bag for full leaf tea, with luminescent colored ribbons over shining Kiaro! labels. The other; an elegant self-dispensing box, with the same beautiful Kiaro! labels.
The Kiaro! Joins Baltimore Coffee & Tea
"We brought a Kiaro! in, set it up, and we printed some logos and some of our graphics. I was astounded with the quality. With the Kiaro! printing at 1200 dpi," says Constantine, "we were blown away by the quality."
"I was thrilled when I saw the Kiaro! labels for the first time," says Linda Lang, " it was pretty exciting. It even will reproduce photographs which is really amazing!"
"We're proud to see the Kiaro! helping a wonderful company increase sales as it has at Baltimore Coffee & Tea," says QuickLabel General Manager, Eric Pizzuti. "Improving sales through increased label quality is very thing we strive to help businesses accomplish with the Kiaro! and is something from which we take tremendous pride."
About Baltimore Coffee & Tea and Eastern Shore Tea Brand
Highest quality tea and beautiful packaging are hallmarks of Eastern Shore Tea, a Baltimore Coffee & Tea brand. Each variety is unique, from the one-of-a-kind blends, to the original label graphics created by renowned artists Howard Burns & Chas Constantine. Each package of loose tea contains a re-usable muslin tea bag, which are individually foil wrapped, and are made from oxygen whitened non-bleached paper. Eastern Shore Tea bags do not use metal staples, so they are microwave-safe. In response to many requests from customers, Eastern Shore Tea has eliminated tags and string, to make their tea bags more ECO-Friendly. All Eastern Shore Teas are Pesticide-Free, and Gluten-Free. All of their decaffeinated teas are Naturally Decaffeinated, using the patented CO2 decaffeination process. Eastern Shore Tea is a brand of Baltimore Coffee & Tea, a certified organic roaster, with certifications from the USDA, and The State of Maryland Department of Agriculture. All varieties of Eastern Shore Tea are made available for purchase online at http://www.easternshoretea.com.
About QuickLabel Systems and Astro-Med, Inc.
QuickLabel Systems is a leading manufacturer of digital color label printers used by manufacturers and processors who want to print their own labels in-house, as well as barcode label printers, thermal transfer ribbon, labels, and custom label printing services. QuickLabel Systems is a brand of Astro-Med, Inc., a manufacturer of high tech specialty printing systems and data acquisition systems for test and measurement. Astro-Med, Inc. (NASDAQ:ALOT) is a member of the Russell Microcap® Index. Additional information is available by visiting http://www.QuickLabel.com. Keep up with QuickLabel Systems on Twitter at http://www.Twitter.com/QuickLabel and on Facebook at http://www.Facebook.com/QuickLabel.