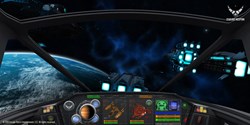 This game is fantastic. I can't wait for the full release.
Austin, TX (PRWEB) September 04, 2013
Escape Hatch Entertainment, LLC today announced that Starlight Inception™, the successful Kickstarter project, has entered closed beta as of Friday to exuberant raves from backers and prepurchasers.
A Kickstarter backer had this to say: "This game is fantastic. I can't wait for the full release." Jason Forster said: "This is one really good sim…can't wait for more to try."
Asked about the Sony Playstation Vita Beta, Garry Gaber stated, "We are putting the finishing touches on our Beta submission to Sony this week. We anticipate making this available to our backers and pre-purchasers soon after."
Escape Hatch is dedicated to producing a triple A product and making good on their promise of backer involvement. "We've really been diligent in putting the player at the center of our design – we have the ability to rapidly iterate changes and to respond to user feedback and bug reports quickly. This buys us a much better game…a much better experience for the player… in the long run, and we are super excited to hear players' reactions," said Garry Gaber, project leader and owner of Escape Hatch Entertainment.
Starlight Inception offers a cutting edge space simulation with a single player campaign, a single player casual mode revolving around defending your mothership (a sort of "3D Tower Defense-type game," according to Gaber), and a robust multiplayer mode which includes several battle arenas for spacefighter pilots to flex their dogfighting skills. There are over twenty crafts to choose from with configurability before and during battle.
"You can outfit the ships with weapons and equipment in the hangar bay, then adjust energy nodes while in combat to fine tune your ship's performance," said Gaber.
To participate in the closed beta, and be granted exclusive access to the Starlight Inception forums, please visit http://shop.eschatch.com. To watch the official trailer, visit http://youtu.be/9v7ISI3oMKc. Like Escape Hatch and Starlight Inception on facebook at: http://www.facebook.com/eschatch; http://www.facebook.com/starlightinception and follow on twitter at: @escapehatchent; @StarlightIncept.
Members of the press, please contact us directly at info(at)eschatch(dot)com.
About Escape Hatch Entertainment
Escape Hatch Entertainment is an independent electronic entertainment studio that develops handheld, computer and console video games focused on great gameplay and compelling stories.
Based in Austin, Texas, as well as on the Internet at http://www.eschatch.com, Escape Hatch Entertainment was created in 2004 to create both entertainment and learning games.
Starlight and Starlight Inception are trademarks of Escape Hatch Entertainment LLC. All other trademarks are the property of their respective owners. © 2013 Escape Hatch Entertainment LLC.
All rights reserved.
Website: starlightinception.com
Kickstarter: http://www.kickstarter.com/projects/732317316/starlight-inceptiontm
Like us on Facebook at facebook.com/starlightinception
Follow us on twitter: @escapehatchent @starlightIncept
###
If you'd like more information about this topic, or to schedule an interview with Garry Gaber, please call Melissa Gaber at 512-350-3305 or email Melissa at melissa(dot)gaber(at)eschatch(dot)com.