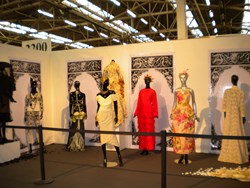 New York (PRWEB) September 10, 2013
Recognized as one of New York City's largest and most comprehensive antique events, the Pier Antique Show returns to Pier 94 the weekend of Nov. 23-24, 2013. U.S. Antique Shows, who acquired the show this past May from Stella Show Management, will mark its inaugural year hosting this event.
"Our U.S. Antique Shows team is really excited to be producing this popular New York event," said Dan Darby, GLM vice president and group show director. "Exhibitors and attendees will see some notable improvements at this year's show including the option to purchase tickets online, a new show directory and an increased marketing and social media presence."
Just in time for the holiday season, visitors can purchase unique and one-of-a-kind gifts for family and friends. The Pier Antique Show features nearly 500 exhibitors of quality antique furniture, decorative and fine arts. This includes items from the 1920s through 1980s, such as manual typewriters, kitchen and home décor, steampunk designs and more. The very popular fashion and book alleys will also reoccur at the show this year.
"The Pier Antique Show is one of the best attended shows my husband and I have seen in our business and we enjoy participating in it each year. We currently live in Florida, but have many customers in New York and we're able to sell a lot of our merchandise at this show," says exhibitor Adele Grodsky of Adele & Alan Grodsky.
U.S. Antique Shows Fair Development Director Andrea Canady also shares her excitement for the upcoming show, "I have attended the Pier Antique Show for the past 15 years and always enjoyed the vast variety of merchandise. I'm thrilled to be working with all the dealers at this year's show. Their passion for what they sell is truly infectious and it has been a joy getting to know each of them over the past few months."
The Pier Antique Show is held semi-annually in March and November. The next show will take place on March 29-30, 2014 at Pier 94.
Show times are Saturday, Nov. 23 and Sunday, Nov. 24 from 10 a.m. to 6 p.m. Admission is $15 and is valid for reentry both show days. Children under 16 are free when accompanied by an adult. For more information about the show or to purchase tickets, call 239.732.6642 or visit http://www.PierAntiqueShow.com.
###
About U.S. Antique Shows
The Pier Antique Show is produced by U.S. Antique Shows, a division of GLM. U.S. Antique Shows is the world's largest producer of indoor antique shows that focus on antiques, vintage and estate jewelry and watches including the highly recognized The Original Miami Beach Antique Show. U.S. Antique Shows produces events in major markets including Las Vegas, Los Angeles, Miami, Miami Beach and New York and brings together well-established dealers with a targeted audience of antiques collectors as well as novice enthusiasts to promote the purchase and appreciation of rare and unusual historic merchandise. Their shows annually draw more than 2,400 dealers and represent 22 countries that exhibit rare and signature collections to more than 50,000 consumers from around the world.
For more information, visit http://www.USAntiqueShows.com, like us on Facebook: Facebook.com/PierAntiqueShow, follow us on Twitter: @USAntiqueShows and explore our Pinterest: Pinterest.com/USAntiqueShows. Check out our new blog at http://www.USAntiqueShows.com/TheQuill.aspx.