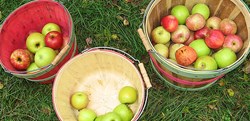 We're proud to endorse this year's top five fall destinations in Western North Carolina.
Greenville, SC (PRWEB) September 04, 2013
Labor Day is officially in the rearview mirror which means it's time to turn our attention to autumn traditions such as football and changing leaves. Carolina Shoppe has selected their 5 must-see autumn destinations in Western North Carolina that include stunning fall color, family memories, and mountain shopping trips. "We're proud to be based in the Carolinas and proud to endorse this year's top 5 fall destinations in Western North Carolina," says Brandon Smith, founder of Carolina Shoppe.
The Blue Ridge Parkway - The Blue Ridge Parkway has been nicknamed "America's Favorite Drive" and is a scenic highway connecting national parks in North Carolina and Virginia. The Blue Ridge Parkway begins in Great Smoky Mountains National Park and features scenic views of autumn leaves, superb camping, and popular attractions such as Grandfather Mountain and Chimney Rock State Park.
Lake Lure, NC - When exiting the Blue Ridge Parkway to visit Chimney Rock State Park and Village, many also plan a visit to nearby Lake Lure, NC. Lake Lure offers an hour-long boat tour for stunning views and local lore, including the location where the movie Dirty Dancing was filmed. Also popular is the Lake Lure Inn and restaurants such as Larkins on the Lake or La Strada which provide lake views of the setting sun.
Highlands, NC - For fall shopping trips, head over to the mountain village of Highlands, NC. Classic inns such as the Highlands Inn and Old Edwards Inn and Spa make ideal weekend getaway spots this time of year in Highlands. Quaint shops add to the fall spectacle and offer serendipity for those seeking a break from the daily routine. Highlands offers a slower pace that is quintessential North Carolina autumn.
Flat Rock, NC - When famed poet Carl Sandburg was searching for a peaceful location for his writing, he chose a home named Connemara in Flat Rock, NC. And while Carl pursued his passion for writing, his wife followed her dream of owning a goat farm. This tranquil setting in Flat Rock offers nature trails and home tours to learn more about this treasured American poet. And when touring of the Sandburg home is complete, many make a stop for some apple picking at Sky Top Orchard.
Sky Top Orchard - Most people associate Sky Top Orchard with Flat Rock even though it's technically located in Zirconia, NC. This is a pick-your-own apple orchard, but Sky Top Orchard offers a lot more than just apple picking. Think hayrides, farm animals, a bamboo forest, and yummy treats such as apple cider doughnuts. Fall traditions in Western North Carolina should include a stop with the kids at Sky Top Orchard.
About Carolina Shoppe
Located near the North Carolina and South Carolina border, Carolina Shoppe celebrates the best of the Carolinas through reviews, gifts, and décor. Shop online at http://www.CarolinaShoppe.com.