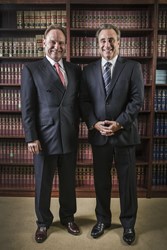 From the beginning, our goal was to be a positive force for change.
Birmingham, MI (PRWEB) September 04, 2013
Scott Goodwin, President-elect of the Michigan Association for Justice, was named by Super Lawyers magazine as a "Super Lawyer" and "Top 50" of all Consumer Practice lawyers.
The "Super Lawyer" award (won by Goodwin 2006-2013) rates lawyers from 70 practice areas that have attained the highest degree of professional achievement.
Goodwin's "Super Lawyer – Top 50" award was just announced in the September 2013 issue of Super Lawyers and in a special section within Hour Detroit.
But the awards kept coming for this local attorney.
Scott was also just ranked as "Best Lawyer" in the 20th edition of The Best Lawyers in America. Goodwin won the 2013 title for his practice area of Personal Injury Litigation – Plaintiffs. The BLA magazine is one of the most visible peer-review publications in the world.
Goodwin is well known for his pro bono work – his firm has presented a large-scale legal aid clinic called "Law Day" for 26 consecutive years. At this annual event, Scott's team of volunteers has distributed and expertly fitted over 10,000 free bicycle safety helmets to children.
Goodwin founded the Birmingham-based Goodwin & Scieszka Law Cente r in 1986 with partner James Scieszka. Scott notes, "From the beginning, our goal was to be a positive force for change. As we worked diligently for each injured victim, we helped hundreds of families get their lives back on track. We never sought to win titles or awards, but are deeply grateful and humbled by them. For me, it's all about helping the little guy; the rest just falls into place."
Mr. Goodwin's recent awards include the "AV Preeminent" rating from Martindale-Hubbell. He is also ranked in the National Trial Lawyers' "Top 100 Lawyers." Detroit's DBusiness ranks Goodwin & Scieszka in its "Top Lawyers" list for 2013.
A resident of Bloomfield Hills, Scott graduated from Michigan State in 1983, and Michigan State College of Law (formerly Detroit College of Law) in 1986.