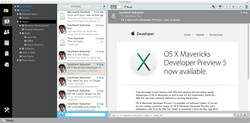 TouchDown for Mac is the ONLY secure Exchange ActiveSync solution for BYOD shops that have invested in mobile security, says Ron Goins, COO of NitroDesk Inc.
Bellevue, WA (PRWEB) September 04, 2013
"TouchDown for Mac is completely innovative – we actively listen to our users, and integrate requests like categorization support, messages and appointments at a glance from a selected user, and time management techniques like GTD, MYN, etc. TouchDown for Mac is the ONLY secure Exchange ActiveSync solution for BYOD shops that have invested in mobile security; now you can feel secure in allowing employees to bring in their MACS without worrying about the security of your corporate data," says Ron Goins, Chief Operating Officer of NitroDesk Inc.
TouchDown for Mac brings Emails, Contacts and Calendars into a single app with the following options available:
Unparalleled Security

Everything is encrypted, regardless of your server or technology
Use of PIN when mandated by server administrator or MDM
S/MIME and IRM, per-email signing and encryption
Native AES-256 Encryption on the data at rest
Selective remote wipe if your device is lost or compromised – only corporate data is removed
Support for client certs when connecting to server
Incredible Manageability

Supports Apple's new native over-the air Mobile Device Management configuration method
Push email notification as opposed to slow polling
High configurability (per account html signatures)
Turn emails into tasks or appointments with one click
Great Manageability, including more MDMs in the future
Works universally with Microsoft® Exchange ActiveSync® servers (Exchange, Office365, Google for Business, Novell, Zimbra)
TouchDown for Mac has many more features than are available on any other third party Exchange solution,

Fast ActiveSync connection for quick access to your corporate data
Supports Microsoft Information Rights Management Server
User-selectable themes, with quarterly updates
Ability to search the server for email not synced to a device
GAL searches
User-configurable Quick Replies
Streamlined UI that is easy to read, sort and respond to mail efficiently while still having familiar MacOS interface elements
Pricing and Availability
NitroDesk TouchDown for Mac is currently only available in beta. When released it will be priced at USD 29.99. No additional monthly charges and lifetime price includes all upgrades. To download the beta, go to http://www.mactouchdown.com or directly to Apple's App Store.
About NitroDesk Inc.
Founded in May 2008, NitroDesk Inc. is the developer of TouchDown, a popular application that lets users synchronize their Android, iOS and Windows 8 and Windows RT powered devices with corporate email, contacts and calendar on their Microsoft ® Exchange Servers. NitroDesk currently operates its head office in Bellevue, Washington.
Brand Name Disclaimers: Microsoft, Exchange, ActiveSync, Android and Apple may be trademarks of respective owners. Windows is a registered trademark of Microsoft Corporation in the United States and other countries.