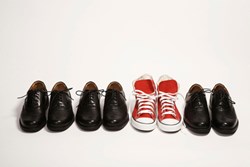 Scottsdale, Arizona (PRWEB) September 04, 2013
TTI Success Insights announced today open registration for a public webinar, "One Size Doesn't Fit All." This webinar will take place at 12pm Eastern on September 19, 2013.
We can all agree that one size — if ever — fits all. This applies to everything from education to fashion, from investing to health and wellness, and there's no surprise that a "one size fits all" approach doesn't work in business. There's no one mentorship program, leadership development strategy, or on-boarding practice that will work effectively in every organization and in every industry. However, when it comes to recruitment and talent management, consistency is paramount in ensuring your approach is OFCCP and EEOC-compliant. In this free public webinar, Senior Business Services Consultant Favor Larson will show you how you can implement tailor-made talent management solutions without sacrificing legal compliance.
One Size Doesn't Fit All
DATE: September 19, 2013
TIME: 12pm Eastern
WHERE: http://www.ttisuccessinsights.com/events
About the Presenter
As Senior Business Services Consultant for TTI Success Insights, Favor Larson strives to improve the quality of the workplace through the application of assessments in businesses and organizations using her in depth knowledge of behaviors, motivators, personal skills, emotional intelligence and acumen. A contributing author of TTI's Acumen Capacity Index (ACI) Manual and new Motivators Manual, Larson assisted in the development of TTI TriMetrix® HD and continues to serve as an integral member of TTI's product development team. Her debriefing expertise is underscored in the hundreds of yearly dyad, triad and group debriefings she performs on behalf of TTI's Strategic Business Services department.
About TTI Success Insights
Dedicated to making organizations better through the design, education and implementation of assessment-based talent management solutions, TTI Success Insights maximizes the performance and satisfaction of employees, while increasing business results for corporations around the world. With its validated, EEOC compliant assessment tools that are free from adverse impact, TTI Success Insights operates through a global distribution network of independent consultants, coaches, speakers, trainers and strategic partners. Serving a domestic client base of Fortune 1000 companies, its international clientele exist in 90 countries worldwide.