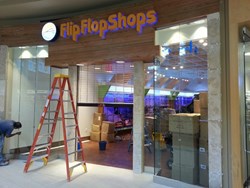 Required to complete all demolition work during off hours
West Des Moines, IA (PRWEB) September 04, 2013
Henning Construction Co., LLC is in the final stages of completing the new Flip Flops Shops in West Des Moines, IA at Jordan Creek Town Center. This project started in early July beginning with the demolition of the existing space in Jordan Creek Mall.
With the only access to the space being through the main mall area, we were required to complete all demolition work during off hours. After some late nights and early mornings, we were ready to begin building the space out. The project is 1,100 sq ft and the finishes consist of cork flooring, grid ceiling with stained plywood panels, oak tongue and groove siding, and travertine tile.
Flip Flop Shops is a franchise with nearly 100 stores currently open and approximately 30 under construction or in the development phase. Live, work and play with your toes exposed® and the freedom of flip flops on your feet. Flip Flop Shops® is the authentic retailer of the hottest brands and latest styles of flip flops and sandals. It's more than just a shop... it's a lifestyle.
Their philosophy - We love the water and everything about it. Whether it's surfing at Rincon with friends, or standing at the water's edge in Tofino while the waves pull the sand out from under your feet and back to the sea... we love it. We ride powder in Canada, bike the backcountry of New Zealand and raft down the Colorado. We love adventure and traveling. We keep up on the latest fashion trends and make up our own. Our flip flops are an extension of who we are and what we stand for. We live, work and play with our toes exposed® while wearing the freedom of flip flops on our feet.
International locations are: Canada, Australia, Aruba, Guam, Curacao, St. Maarten, and the U.S Virgin Islands. With the shop set to have a Grand Opening on September 5, 2013, Henning Construction would like to thank shop owner Luke Johnson for the opportunity to work on this project. We wish him well with this business endeavor.