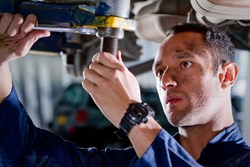 Burbank, CA (PRWEB) September 04, 2013
USA Business Insurance has announced that any motorized vehicle repair facility can now purchase specialized General Liability Insurance for Mechanic Shops with extended coverage. This announcement not only relates to general repair shops but to more specialized services like transmission repairs, A/C repairs, alignment shops and many other service providers with a niche operation. During the economic downturn many mechanics who worked for dealerships that closed began opening their own shops. Experiencing a lawsuit or claim that results in thousands of dollars could ruin a newly established business.
Even though most repair facilities post signs strategically that prohibit customers from visiting their cars while work is being performed, customer injuries still can't be prevented. Anyone who walks out on the garage floor, even uninvited, could slip and fall and sue the shop for damages. With liability insurance all these claims would be covered giving the owners peace of mind.
The release of the extended program now offers completed operations without any exclusion within the General Liability Insurance for Mechanic Shops. The coverage protects the business after the customer has taken position of the vehicle or truck. Whether it is one day or few months down the line, the customer may claim injuries due to mishandled repairs or defective replacement parts. Not only will the insurance pay for claims if the shop is found to be at fault, it will even pay the legal fees if the shop owner is found not liable.
Many mechanics rent or lease the space in which they work. General Liability Insurance for Mechanic Shops will protect the lessor in case the landowner's property is damaged in the performance of everyday activities.
In addition to broader coverage, the new program makes available the option of choosing a Business Owners Policy (BOP) that protects the policy holder should something happen to the tools of the trade whether from vandalism, theft, fire or any other damage. Not only would an event of this nature affect the business financially, it would give the customer a reason never to return for future repairs.
For the business owners who frequently work on vehicles that are not completed in a workday or are kept on the premises overnight, Garage Keepers Coverage along with non-owned liability should be incorporated within the general liability policy. This will cover damage and theft to customers' vehicles during the time they are in the shop owner's possession. Non-owned liability will provide coverage while the vehicle is being test driven before being returned to the customer.
To learn how General Liability Insurance for Mechanic Shops can protect all those who work on motorized vehicles visit http://www.businessinsuranceusa.com.
About USA Business Insurance: USA Business Insurance writes general liability insurance and Business Owners Policies for many types of service providers in the automobile repair industry. Insurance professionals are available who specialize in the industry and can answer any questions.