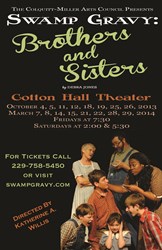 [Swamp Gravy, Brothers and Sisters] celebrates the relationship between siblings, and the joys, complexities, and occasional heartaches that come with it.
Colquitt, GA (PRWEB) September 05, 2013
In 1992, the production that began as an idea to preserve the oral history of Colquitt, Georgia became a bona-fide hit that would bring hundreds of thousands of people to the tiny rural town in southwest Georgia over the next 20 years. "Swamp Gravy", Georgia's Official Folk Life Play, has been delighting audiences since that time with true stories of the region, put together with locally-written music and spiced up by the performances of their local volunteers. The project is still going strong, and is about to enter its 21st season.
This October, the Colquitt/Miller Arts Council, producers of Swamp Gravy, will kick off their 2013-2014 season with "Swamp Gravy: Brothers and Sisters". The production features a series of vignettes celebrating the relationship between siblings and the joys, complexities, and occasional heartaches that come it. "Brothers and Sisters" enjoyed instant success when it first premiered on the Cotton Hall stage in 1999, and the Colquitt/Miller Arts Council is proud to bring it back for a new season.
This classic production was the first script from local playwright Debra Jones, who had been a cast member and story gatherer with the production from its beginning in 1992. She would continue as the playwright for Swamp Gravy until 2005, penning six scripts for the project, all of which were well received by locals and "out of town" guests alike. The revival will feature direction from Katherine A. Willis, music by Karen Kimbrel, Charlotte Phillips, Jennifer Roland, and Debbie Sloan, choreography by Karen Beyer, lighting by Thomas Rodman, and a cast of more than 100 local volunteers.
The season will continue with a number of productions and events to delight audiences of all ages. In November the Colquitt/Miller Arts Council will host a "Jeans and Jewels" dinner and live auction. December will see the premiere of "A Very Merry May-Haw Christmas", a variety-style show featuring Christmas carols and a few surprises for the whole family, as well as a Holiday Tour Of Homes. March brings another helping of "Swamp Gravy: Brothers and Sisters", followed in April by "May-Haw: Colquitt's Own Variety Show," a toe-tapping good time filled with country music and lighthearted comedy.
Regular-priced tickets are $26.56 for Swamp Gravy, and $15 for the December and April versions of May-Haw. Tickets for all shows are available at swampgravy.com or by calling 229-758-5450 Tuesday-Friday. Fans can check out Swamp Gravy on Facebook and Twitter to keep up-to-date on the latest discounts and promotions.