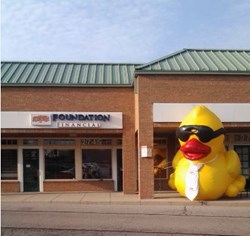 Foundation Financial Group is having so much fun supporting United Rehabilitation Services in its mission to enhance the lives of disabled children and adults.
Dayton, Ohio (PRWEB) September 04, 2013
Foundation Financial Group bid farewell to the 12-foot duck that spent a week promoting the 2013 Rubber Duck Regatta by hanging out in front of FFG's Dayton Retail Branch Office, located at 2745 Miamisburg Centerville Road #2. Foundation Financial's focus has now shifted to the next stage of its sponsorship, a relay race held by United Rehabilitation Services to benefit children and adults with disabilities.
The inflatable mascot has been migrating around Dayton, visiting dedicated corporate sponsors and stirring up excitement for the 10th Annual Rubber Duck Regatta on Saturday, Sept. 21. To welcome him to the FFG team, Foundation Financial Group employees created a six-foot neck tie for Quackers to wear. Passersby paused to take pictures with Quackers and discuss the upcoming URS Rubber Duck Regatta. In addition to imparting mortgage, insurance, and retirement advice, FFG's experts encouraged people to help support the URS mission by visiting daytonducks.com and adopting a rubber duckling.
"A giant duck that sports stylin' shades and a fancy neck tie definitely attracts attention and starts conversations," said Tessa Lawson, Foundation Financial Group event coordinator. "I spoke with a couple dining at the restaurant beside our office about how they had already adopted ducks. I was able to detail how their support helps United Rehabilitation Services continue to enrich the lives of the disabled. I miss smiling up at Quackers every morning, but I'll be seeing him at the Ducks on the Square event."
Foundation Financial Group employees have begun preparing for Ducks on the Square, which will take place on Friday, Sept. 13. A four-person team of FFG professionals will represent the financial services corporation in a series of duck-related relay races. The Ducks on the Square event will be held at noon in the Courthouse Square and will feature a corporate duck race in the fountain.
"To support an amazing organization, I get to splash around in a fountain downtown…legally," said Lawson. "I'm so excited. We absolutely shine at teamwork, so I know FFG's going to do really well with the relay races. Foundation Financial Group is having so much fun supporting United Rehabilitation Services in its mission to enhance the lives of disabled children and adults."
Originally founded in 1956 as the Dayton Chapter of United Cerebral Palsy, United Rehabilitation Services now provides daily services to more than 400 people with Cerebral Palsy, Down Syndrome, Muscular Dystrophy, Autism, Alzheimer's Disease, Pervasive Developmental Disorders, and many other disabilities. URS services include therapy programs, transportation assistance, and vocation programs. As a member of the Better Business Bureau, URS programs adhere to rigorous charitable giving standards, and URS services are accredited nationally and locally.
About Foundation Financial Group
Foundation Financial Group is a multibillion dollar financial services corporation. FFG offers its customers Best in Class service through its Insurance, Retirement, and Mortgage Services. Named one of the fastest growing financial companies in the country by INC magazine for the third year running, FFG has continued to grow its nationwide presence with over 100,000 new customers per year in 39 states. In addition to the value that Foundation Financial provides every customer, it is also dedicated to its communities and the people who live in them. Through a vast array of philanthropic endeavors the company not only provides significant monetary donations but also fosters a workforce environment that encourages all team members to personally make a difference. Foundation Financial is committed to its strong focus on customer service and community investment as it continues to grow and compete with the largest financial institutions in the world.
Foundation Financial Group reviews all public relations inquiries. For additional information, interview and image requests, contact the Foundation Financial Group Public Relations Team.