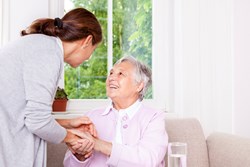 CareLinx helps you find the perfect caregiver for your loved one
San Mateo, CA (PRWEB) September 05, 2013
The online start-up CareLinx continues to garner national attention for its innovative solution to home care help. Besides recent coverage from Forbes, Businessweek, The Wall Street Journal's MartketWatch, PBS and the CBS News, CareLinx is featured in this month's AARP the Magazine (circulation 32 million).
The company is also winner of the 2012 national AARP Health Innovation@50+ Live Pitch competition voted by aging and technology experts, consumers, and investors.
The CareLinx model, allowing families to go online to find a quality caregiver for their aging parent and save thousands of dollars in agency fees, is unique. CareLinx matches families' individual needs and budgets with a national network of home care professionals, visiting nurses, live-ins and companion care helpers.
By eliminating high agency fees, families have saved up to $10,000 a year, paying $12-$16 an hour rather than an agency's $20-$25 rate. Through its secure website, families and institutions find, screen, hire and pay quality caregivers. The family interviews potential caregivers in person, on the telephone or online.
CareLinx CEO and Founder Sherwin Sheik believes that "our company is revolutionizing home care. Rather than having an agency select the candidates or take a chance on a job board like Craigslist, you have more control over the hiring process. We get clients a better match at a much lower price."
CareLinx does background checks, supplies references, bonding, liability insurance and tax help. An adult child, whether nearby or across the country, can manage caregiving remotely, viewing time sheets, finding out what the caregiver did on his or her shift and even paying them online.
Sheik says his service can make the difference between a parent being able to stay at home and needing institutional care. A 2013 John Hancock Life Insurance Company national study puts the annual cost of a private nursing home room at $94,170, with a semi-private $82,855 and assisted living $41,124. That's now; health care costs keep soaring.
With a dramatic demand for paid caregivers, CareLinx's timing is impeccable. An AARP survey shows that nine out of ten people want to grow old at home. Yet seven out of 10 family caregivers work and many adult children and relatives live far away.
In the U.S., more than 5.2 million people have Alzheimer's; every 68 seconds, an American develops Alzheimer's or other dementias. Some CareLinx caregivers have special Alzheimer's training.
Sheik, a former healthcare investor, started CareLinx in December, 2011, out of a personal need. He watched his family scramble for quality help for his sister with multiple sclerosis and an uncle who had ALS (Lou Gehrig's Disease); his mother ultimately lost her job to care for Sheik's sister. He realized, "there had to be a simpler, less expensive way to find top-notch care and reduce family stress. CareLinx is it!"
To learn more about CareLinx, please visit http://www.carelinx.com.