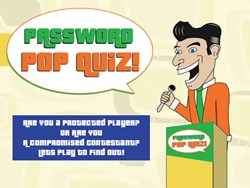 Cedar Rapids, Iowa (PRWEB) September 03, 2013
No whammies, no whammies, no whammies; STOP!
Cyber hackers are a relentless bunch of criminals willing to 'stop' at NOTHING to steal your personal information & money. It's not a game to them; it's their JOB – and unfortunately for us, they are good at what they do. Are you just 'spinning the wheel' on password security?
SecurityCoverage Inc, presents a fun yet informational new challenge to the password management game show. The 'Password Pop Quiz' tests reader's awareness of password security and urges users to bring their 'A' game in thwarting off internet whammies.
Are you a 'protected player' or 'compromised contestant'? Let's play to find out!
Consumers may also exercise these simple tactics to help protect their password and personal information:
1. Cardinal rule #1 - Do not use the same password for ALL logins! You wouldn't use the same key for your home, car, and safe – don't choose the same password for each of your online accounts. This way if one password gets compromised the others are still safe.
2. Change your password at least every 30 days. Do not reuse a password for at least a year.
3. Choose a password with at least 8 characters. The longer the password, the longer it will take someone to crack it. You can make a password much more secure by mixing different characters and using some uppercase letters along with lowercase, numbers, and even special characters such as '&' or '%'.
4. Don't use names of spouses, children, pets, phone numbers, or birthdates. In fact, try to not even use real words. With advanced algorithm tools, it doesn't take long for hackers to try every word in the dictionary.
5. Do not trust your browser to "save" your login and password. All it will do is save – not protect! Anyone with access to your PC or mobile device will then have access to your accounts. All a person has to do is go to the browser settings, find your list of stored passwords and click "show" on each one to display your password right on their screen.
Juggling all of your passwords can be a daunting task and is not easy. Consider using a password manager such as PasswordGenie to assist in generating more secure passwords. PasswordGenie auto-generates and maintains your list of usernames and passwords in encrypted form. It will even auto-fill the username and password on sites and applications.
About SecurityCoverage
SecurityCoverage, Inc. is a leading provider of mobile and desktop security software, data protection, file sharing/backup, and technical support services. Founded in 2003 with a clear mission to simplify the use of technology and provide world class customer service, we remain relentlessly dedicated to protecting consumer devices and personal data. Today, nearly 400 partners from diverse markets like broadband, retail and warranty help SecurityCoverage achieve its mission for consumers everywhere. Product and company information is available at http://www.securitycoverage.com.
###
Media Contact:
Mike Fleming | Public Relations Manager
SecurityCoverage Inc. | 230 2nd St. SE Suite 312, Cedar Rapids, IA
Office: 319.298.4709