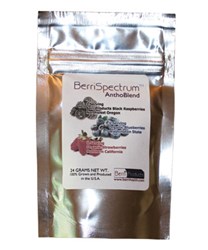 Research shows that different berries have different types of anthocyanins, making each unique and healthy in their own way.
Portland, Oregon (PRWEB) September 18, 2013
BerriProducts, a leader in providing the highest quality berry products for clinical trials and directly to consumers, has developed a new berry powder blend that launched today on their website, berrihealth.com. It mixes organic blueberries from across the Columbia River in Washington, organic strawberries from the northern coast of California, and their own premium black raspberries grown at select farms in Oregon. The new product, BerriSpectrum™ AnthoBlend™, uses a newly-developed drying technology that allows the berry powder to pour easily, clump less, and dissolve quickly into liquids. This is all done while keeping intact the phytonutrients found within the berries.
Dr. Gary Stoner, a founder of BerriProducts, leading professor, and researcher, has spent decades using the black raspberry in his research. However, he is also a big proponent of eating a wide variety of berries to stay healthy. Dr. Stoner stated in a recent interview that "it is a good idea to have berries as part of your overall diet, and I think every day is the best case scenario." To achieve that goal, each small package contains 24 grams of powder, which makes up a full nutritional serving of each of the three berries. The packaging is a special metal-composite material to keep the powder safe from moisture, oxidation, and light. The packages don't have to be refrigerated and make it very easy to get berries on the go.
Research shows that different berries have different types of anthocyanins, making each unique and healthy in their own way. Blueberries are well known for their brain health benefits, and strawberries are being studied for potential benefits in cardiovascular health. The foundation of the blend is the black raspberry, which has been studied for decades due to the large concentrations of unique anthocyanins that give the berry its intensely dark pigmentation. It is one of the most heavily studied berries in human clinical trials for cancer research and for anti-inflammatory properties.
About BerriHealth:
BerriHealth.com is the web direct presence of BerriProducts LLC. Located in the heart of one of the premier berry growing regions in the world in Northwestern Oregon, they have been providing high-quality specialty black raspberry products for scientific research, and direct to consumers since 2009. They partner with select Oregon farm partners to produce the highest quality black raspberry products. By focusing on partnering with exceptional farms, controlling careful and timely harvesting, quality after-harvest processing, and using advanced packaging technology they insure their extensively tested products are phytonutrient rich year in and year out and that they stay that way until consumed.