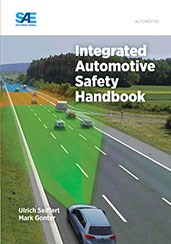 Special attention is given to driver assistance systems and to compatibility in car-to-car crashes and pedestrian protection.
Warrendale, PA (PRWEB) September 04, 2013
Even though a number of developed countries enjoy a high level of vehicle safety, more than 1.2 million fatalities still occur each year on roadways worldwide. New technologies in sensors and electronic control units, and the growing knowledge of car-to-car and car-to-infrastructure technologies have led to a fusion of the previously separated areas of accident avoidance (popularly known as active safety) and mitigation of injuries (popularly known as passive safety) into the newer concept of integrated vehicle safety. "Integrated Automotive Safety," a new book from SAE International that is written by two of the world's foremost automotive engineering safety experts, takes a unique and comprehensive approach to describing all areas of vehicle safety: accident avoidance, pre-crash, mitigation of injuries, and post-crash technologies, providing a solutions-based perspective of integrated vehicle safety.
Also covered are accident investigation and worldwide legislation as they apply to integrated vehicle safety. The man-machine interface, biomechanics and development and simulation techniques are also key concepts that are thoroughly described. Special attention is given to driver assistance systems and to compatibility in car-to-car crashes and pedestrian protection.
Chapters include:

Accident research
Functions of integrated safety
Biomechanics and protection criteria
Injury mitigation
Adaptive occupant protection
Compatibility
Calculation and simulation
Future
Authors are Ulrich W. Seiffert and Mark Gonter.
Professor Dr.-Ing. Seiffert is acting chairman of WiTech Engineering GmbH, member of the board of ITS Niedersachsen, member of the board of VDI Vehicle Technology, member of the Helmholtz Senat, member of the Royal Swedish Academy of Engineering Sciences (IVA) and Acatech. Until the end of 1995, Dr. Seiffert was a member of the board for research and development of Volkswagen AG in Germany. He also holds a number of patents in the safety area and for vehicle and traffic technology and has received awards for his work in the field of safety and environmental engineering. Also, he is the author of a large number of books and has published more than 350 technical papers.
Dr. -Ing. Gonter, head of the Integrated Safety and Light research group at Volkswagen, has been Professor of Integrated Vehicle Safety at the University of Braunschweig, Germany, since 2008. Furthermore, he is a lecturer at the Autouni of Volkswagen. Dr. Gonter has worked for the Volkswagen Group since 1999. His previous roles include Head of Integrated Safety, Project Manager of Adaptive Occupant Safety, and Accident Researcher. In 2007 he received a Doctorate of Engineering in Intelligent Restraint Systems from Dresden University of Technology in Germany. He has published a large number of technical papers in the field of active and passive safety and holds a number of patents that pertain to automotive vehicle safety.
Book details:
Table of Contents
Published By: SAE International
Published: October 2013
Pages: 212
Binding: Hardbound
Product Code: R-407
ISBN: 978-0-7680-6437-7
$87.96-$98.96 (SAE International Members); $98.96 (List) – This is a special introductory price; final list price will be $109.95.
For more information, including free front and back matter, or to order "Integrated Automotive Safety," visit: http://books.sae.org/book-r-407/.
To request an electronic review copy of the book, email pr(at)sae.org. Forward published reviews to Shawn Andreassi at pr(at)sae(dot)org or SAE International, 400 Commonwealth Dr., Warrendale PA, 15096-0001, to receive a print copy of the book or another equivalent SAE International book.
Related SAE International books include:
"Developments in Modern Racecar Driver Crash Protection and Safety--Engineering Beyond Performance," by: John Melvin and J. Kirk Russell
"Occupant Protection and Automobile Safety in the U.S. since 1900" by Roger F. Wells (Product Code: R-404)
"V2V/V2I Communications for Improved Road Safety and Efficiency," by: Ronald K. Jurgen
SAE International is a global association of more than 138,000 engineers and related technical experts in the aerospace, automotive and commercial-vehicle industries. SAE International's core competencies are life-long learning and voluntary consensus standards development. SAE International's charitable arm is the SAE Foundation, which supports many programs, including A World In Motion® and the Collegiate Design Series.