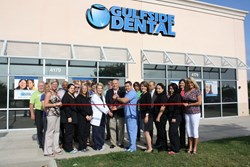 (PRWEB) September 04, 2013
Gulfside Dental is proud to announce the one year anniversary of their Beaumont, Texas dental office located at 4179 Dowlen Road. Since opening its doors on September 4, 2012, Gulfside Dental has served close to 5,000 patients in the Golden Triangle. "We want to thank our patients, their families and our employees for helping make our first year successful," says Dr. Ashley Demarco.
Commitment to patient care and community involvement are the core of Gulfside Dental's success.
Dr. Ashley DeMarco and her caring team pride themselves on giving the highest quality dental care in a comfortable, state of the art environment. The office uses the latest technology to keep patients comfortable, safe and informed. To ease anxiety in the waiting area, Gulfside has several flat screen televisions where adults can watch a movie and kids can play Xbox and Playstation games. Patient rooms are equipped with flat screen televisions on the ceiling to make treatments more enjoyable. "Our team at Gulfside Dental makes every effort to ensure our patients feel comfortable from the moment they walk through the door. We treat all of our patients as individuals and strive to relieve any fears that they may have about their dental visit. Our team is specially trained to deliver gentle, comforting care to ensure each office visit is a pleasant experience," says Dr. DeMarco.
Gulfside Dental uses the latest, best dental technology on the market to provide optimum dental care. Some of these include digital x-ray which reduces radiation up to 90%. Instead of the usual wait of 10 minutes for the film to develop, it is ready to view in 2-3 seconds. This allows for the diagnosis to be more efficient and radiation exposure less hazardous. Gulfside Dental understands that it is often difficult for the patient to understand what each dental procedure is and what it entails. Digitalized computer animations are shown in the treatment rooms to explain what each procedure is about and how it is performed. The patient will have a greater understanding of their own oral condition and how it can be improved.
At Gulfside Dental, community involvement is among the most important aspects of being a successful dental practice. Since its opening, Gulfside Dental has participated in a variety of community events. Gulfside Dental is currently in a partnership with Beaumont ISD to improve the oral health of BISD students and faculty. Gulfside Dental has spoken to all of the BISD elementary and middle school ACE programs to teach proper oral care. Gulfside Dental also provides educational presentations to: the Boys and Girls Club, Girl's Haven, Boy's Haven, the Adult Literacy Program, local daycares, and numerous other organizations in Southeast Texas. In addition, the team at Gulfside Dental enjoys participating in community events such as Cops and Kids, Trunk or Treat, Mardi Gras of Southeast Texas, Lamar University Basketball and Baseball Games, and many others.
Dr. Ashley Demarco and the team at Gulfside Dental want to thank Southeast Texas for their support and look forward to serving the community for many years to come.
Gulfside Dental offers a comprehensive oral health program, including preventative, cosmetic and reconstructive dentistry for all ages as young as six months old. Gulfside Dental also specializes in: bridges and implants, extractions, dentures and partials, braces, emergency dental care, Snap-On Smile, LUMINEERS, and ZOOM whitening. Gulfside Dental accepts all major PPO insurances, most HMO Insurances, Medicaid, CHIPS, Texan Plus, HealthSpring, Care Credit, Visa, Mastercard, and Discover. Gulfside Dental is located at 4179 Dowlen Road in Beaumont, in the Barnes and Noble shopping center, across from Parkdale Mall. For appointments, please call 409-899-4867.