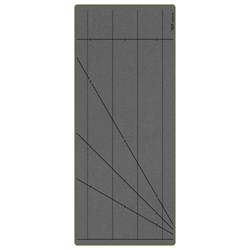 We make changes to continually add value to the products and make the fabric cutting process faster and more accurate.
Omaha, NE (PRWEB) September 04, 2013
AccuQuilt is excited to announce an improvement to some of our most popular products, GO!® Strip Cutter Dies. This upgrade is simple, yet offers users a valuable way to expand the use and versatility of their fabric cutters.
GO! Strip Cutters will have four angled guide lines printed on the foam surface. Lines at 90-degrees, 30-degrees, 45-degrees, and 60-degrees allow quilters to cut strips into squares and several types of diamonds that can be used to make classic quilts like the Lone Star and Tumbling Blocks. These preprinted angled guide lines will make it easy to create a variety of shapes with consistent cuts that will save time and fabric. The GO! Strip Cutter Dies are hugely popular amongst quilters, and now the creative possibilities with Strip Cutter Dies are infinitely bigger.
"We get excited every time we make any sort of upgrades to our products," said Steve Nabity, AccuQuilt's Chief Energizing Officer. "We make changes to continually add value to the products and make the fabric cutting process faster and more accurate. We can't wait to see what quilters do with GO! Strip Cutter Dies with angled guide lines."
This will be a rolling change to newly manufactured strip cutters that will start shipping in early September. The change is all part of AccuQuilt's ongoing improvement process. They constantly look for ways to increase the value of their products. In fact, AccuQuilt customers have a large voice in the way the company makes upgrades to their products.
This upgrade will not raise the cost of the product in any way. And though it will not be available for existing strip cutters, it will in no way make existing products obsolete.
AccuQuilt GO! fabric cutters, dies and accessories are available at local quilt and fabric retailers. Quilters also can purchase GO!® and Studio™ fabric cutting systems by visiting http://www.accuquilt.com or calling 888.258.7913.
GO! Like us: http://www.facebook.com/accuquilt
GO! Sign up: http://www.accuquilt.com/email-signup
GO! Watch us: http://www.youtube.com/accuquilt
GO! Pin us: http://www.pinterest.com/accuquilt
About AccuQuilt – Better Cuts Make Better Quilts®
Headquartered in Omaha, Neb., AccuQuilt offers quilters, fabric crafters and retailers a premiere line of fabric cutters, dies, quilting patterns and other quilt and fabric cutting solutions that help quilters quickly and accurately cut shapes for quilting and fabric crafts. AccuQuilt also offers quilters a wide variety of rich educational resources to enhance their quilting experiences. Cutting with AccuQuilt cutters is a natural evolution of fabric cutting methods. "First scissors…then rotary…finally…AccuQuilt®" for fast, easy, accurate fabric cutting. Visit http://www.accuquilt.com for more information.