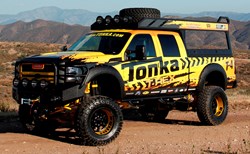 Van Nuys, CA (PRWEB) September 04, 2013
For over 66 years TONKA trucks have represented the true meaning of toughness, remaining a trusted iconic brand throughout generations. The TONKA brand, under license from Hasbro, Inc., and Funrise Toys have joined forces with some of the most influential companies and manufacturers in the vehicle industry to create the ultimate, larger than life TONKA Truck! Appropriately named the TONKA T-Rex, in part because of its sheer size and dominating appearance, this custom truck stands 12ft high when fully lifted and weighs an astonishing 10,000 pounds.
Galpin Auto Sports (GAS), Kelderman, Highway Products, Banks Power, Toyo Tires, American Force, Bushwacker, Fab-Fours, Warn, JL Audio, Kenwood, and Katzkin helped Funrise bring this TONKA truck to life.
Funrise unveiled this life-size TONKA Truck as its latest platform for marketing and promotional activities. The TONKA T-Rex will be used for overall brand awareness, appearing at various auto shows and marketing and retail events across the U.S. The truck will also play an integral role in holiday toy drives participating in family events, parades and off-road events. The Tonka T-Rex will make its first national television debut as a feature in this year's Hollywood Christmas Parade!
To stay updated on all the upcoming events for the TONKA T-Rex in your area, follow TONKA at http://www.facebook.com/TONKA
About Funrise
Founded in 1987, Funrise is an adventurous innovator of superior toys and an industry leader in the manufacturing and distribution of the most popular children's toys. Simply put…we create fun! Funrise's core property portfolio includes Gazillion® Bubbles, HEADBANGERS™, Home Arcade, Tub Town®, Lil' Cupcake®, Sassy Stables™, Shelcore's Shake 'N Bobbles®, Sunny Steps and Play & Imagine® with leading licensed power brands such as TONKA®, National Geographic©, MY LITTLE PONY®, BABY ALIVE®, FURBY® and more, making our product offerings diverse and full of fun for kids of all ages! Funrise Toy Corporation is a wholly-owned subsidiary of Matrix Holdings Limited. Funrise U.S. headquarters are located in Van Nuys, CA, with offices in Hong Kong, United Kingdom, and France and with additional showrooms in Dallas, Minneapolis, Bentonville and Miami. Funrise is operated by Arnie Rubin, vice chairman of Matrix and CEO of Funrise. Mr. Rubin also served as President of the International Council of Toy Industries and is the former Chairman of both the Toy Industry Foundation (T.I.F.) and the Toy Industry Association (T.I.A.). Funrise's success results from its commitment to quality manufacturing, progressive marketing and a values-based corporate culture. For more information, visit http://www.funrise.com
About Hasbro, Inc.
Hasbro, Inc. (NASDAQ: HAS) is a branded play company dedicated to fulfilling the fundamental need for play for children and families through the creative expression of the Company's world class brand portfolio, including TRANSFORMERS, MONOPOLY, PLAY-DOH, MY LITTLE PONY, MAGIC: THE GATHERING, NERF and LITTLEST PET SHOP. From toys and games, to television programming, motion pictures, digital gaming and a comprehensive licensing program, Hasbro strives to delight its global customers with innovative play and entertainment experiences, in a variety of forms and formats, anytime and anywhere. The Company's Hasbro Studios develops and produces television programming for more than 170 markets around the world, and for the U.S. on Hub Network, part of a multi-platform joint venture between Hasbro and Discovery Communications (NASDAQ: DISCA, DISCB, DISCK). Through the company's deep commitment to corporate social responsibility, including philanthropy, Hasbro is helping to build a safe and sustainable world for future generations and to positively impact the lives of millions of children and families every year. It has been recognized for its efforts by being named one of the "World's Most Ethical Companies" and is ranked as one of Corporate Responsibility Magazine's "100 Best Corporate Citizens." Learn more at http://www.hasbro.com.