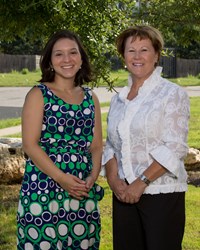 "With her vast range of experience in the medical field and overall love for patient care, we anticipate that Dr. Salinas will be the perfect fit for our group of high-quality, board certified pediatricians." -Dr. Katalenas
Round Rock, TX (PRWEB) September 06, 2013
Pediatric Center of Round Rock has added a new pediatrician to their team. Dr. Crystal Salinas joins Dr. Marta Katalenas as an advocate for childhood nutrition and obesity awareness as well as bringing a special interest in improving the symptoms of asthma and educating parents in proper newborn care.
Dr. Crystal Salinas completed her pediatric residency at Dell Children's Medical Center and became the Chief Resident where she taught medical students and residents, in addition to working as a Pediatric Hospitalist and a preceptor at the resident clinic. She also continues to serve as a continuity preceptor for residents at Dell Children's Medical Center and enjoys participating in medical missions.
"With her vast range of experience in the medical field and overall love for patient care, we anticipate that Dr. Salinas will be the perfect fit for our group of high-quality, board certified pediatricians," says Dr. Katalenas.
Dr. Salinas will be participating in Round Rock and Austin area community organizations and events to lend her expertise in childhood nutrition and health. She will be joining the Pediatric Center of Round Rock team at the 2nd Annual Kids Fitness Fun Day which will be held September 21st at Cat Hollow Park. This year's media sponsor is Mix 94.7 which will help promote the message of fitness to a wider audience and attendance is expected to be even higher than the inaugural event in 2012.
In addition to Mix 94.7, Gold level sponsors include Dell Children's Medical Hospital, First Texas Bank, Medspring Urgent Care, Terri Romere Real Estate, The Little Gym, Rose Dental Group, Aim and Focus Karate, Foot Associate, Baseball Chi, Rock Chiropractic, Champions Way Tai Kwon Do, i9 Sports Austin, and Fleet Feet Sport.
Space is still available to participate in Kids Fitness Fun Day and food vendors are currently being sought. To learn more visit the Kids Fitness Fun Day website at http://www.kidsfitnessfunday.org.