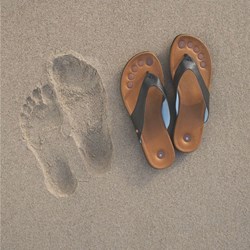 The greatest benefits of earthing lay in the potential for free electrons. Atoms and molecules do not like to be unbalanced.
Mequon, WI (PRWEB) September 05, 2013
Earthing and Grounding footwear has recently gained recognition from many in the medical industry. This footwear type is now a trend in the wellness spa industry to help improve health and daily life for some people. This footwear is now offered online at the http://www.juil.com company.
"Walking barefoot is often a nostalgic thought, never considered for too long as people hustle about in office-crammed days," said a source from the Juil.com company.
When a person becomes insulated from nature and the outdoors, he or she can neglect the potential of the earth – a giant magnet with immense healing capability.
Studies suggest that toxins, electromagnetic frequencies, stress, and pollution are all factors that build-up free radicals in our bodies. When these free radicals begin stripping healthy cells of their electrons, oxidative stress occurs.
Too much oxidative stress can wreak havoc upon the body's metabolic systems and lead to a higher potential for inflammation and other bodily ailments.
While vitamins and certain foods are viable sources for the electrons that are needed, another source is the earth beneath the feet of each person. In the medical community, walking barefoot is known as earthing or grounding and has been studied scrupulously in recent years.
Dr. Roy Lidke, Podiatrist and Physicist, tends to agree regarding the massive healing potential in earthing. Dr. Lidke explains that, "The greatest benefits of earthing lay in the potential for free electrons. Atoms and molecules do not like to be unbalanced - having a single electron in the outer shell of their structure."
"Oxidative stress," Dr. Lidke goes on to say, "is related to cell damage in the inflammatory process and can eventually lead to cell death." Luckily, grounding can provide the electrons for the atoms and molecules to alter these free radicals.
Although barefoot contact is preferable, it isn't always appropriate in the work of social confines. A trend of earthing and grounding shoes has recently gained traction within the footwear industry. Juil™ is one of these brands. Using copper conductors within the toes and heel of each shoe, Juil allows the wearer to cleanse his/her body of stress and toxins in the form of free radicals. The benefit is simple – people feel better.
To learn more about Juil and the growing wellness trend of earthing shoes, please visit http://juil.com.