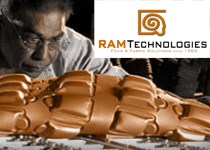 Adding a facility in Mexico will more than double our capacity and put us geographically close to some of our best partners, while lowering our overhead costs and increasing our visibility to other manufacturers.
Tijuana, Baja California, Mexico (PRWEB) September 04, 2013
Washington-based engineered foam and fabric manufacturing leader, RAM Technologies, announces its expansion with a brand new facility in Mexico. The new 30,000 sq. ft. facility will double RAM's total capacity and strategically places the company at the hub of world's rapidly growing Medical Device Industry in Tijuana. Co-Production International (CPI) worked with RAM Technologies under CPI's Shelter Company Program, which included setting up corporate framework, legal establishment and new facility site selection.
"The initial factor was our desire to be the best supplier we could be to our existing partners. Since many of our best customers manufacture in Baja, it only made sense that we add a local facility close to them to deliver quickly and painlessly, "said Kreston Welch, Director of Sales for RAM Technologies, on the company's motivations behind selecting Tijuana for their expansion.
With more than 67 medical device companies, Tijuana's Medical Device Cluster has become a top destination for global medical device manufacturers. Not only is RAM's new facility within minutes of their best partners, but its proximity also introduces them to a new supply chain. RAM Technologies will be the anchor company in the newly completed and modern Thomas Alva Edison Industrial Park, located in the heart of city. CPI connected RAM with the park's Director, Eduardo Rojo, early on in the process as a part of their site selection services.
Professional connections such as that between RAM and the park's director are a major component of CPI's expertise in establishing companies in Mexico. Working closely with CPI not only secured RAM as the first company to occupy the park, but allowed ample negotiations to ensure the new space suited all of RAM's needs. Apart from the site selection process, CPI will provide RAM with HR and personnel recruitment, accounting, tax reconciliation, payroll processing, and the logistics and customs for their expansion.
"CPI's partnership with RAM Technologies really showcases just how turnkey CPI's solutions are for businesses. Not only are we thrilled to work with a world class company like RAM, but are also confident in RAM's future with the company's expansion in Mexico. Everyone wins when you have the ability to assist a company like RAM in claiming their place at the global heart of the medical device industry like that in Tijuana," said Enrique Esparza, President of CPI.
One of RAM's largest clients, DJO Global, is also located in Tijuana, making this new facility not only an economic decision, but one based on proximity. DJO, with Q1 sales of nearly $280M USD this year, also worked with CPI to establish operations in Tijuana. Welch added that the new facility in Tijuana "put us geographically close to some of our best partners, while lowering our overhead costs and increasing our visibility to other manufacturers." Not only are they going to be visible south of the border, but north of it in San Diego as well. San Diego, California is known for its medical and biomedical sciences research and development cluster. As the facility prepares to open next month, expectations are high as RAM establishes a strong foothold in Southern California and Mexico.
###
RAM Technologies is the West Coast leader in custom foam and rubber fabrication. RAM works as a team to fabricate highly engineered foam and fabric solutions for discerning clients who value mutually beneficial partnerships. For more information visit http://www.ramtechnologies.com
Co-Production International is an administrative services provider located in San Diego, CA, offering successful business expansion solutions, shelter company services, day-to-day administrative duties, site selection, and the complete set-up of your operation in Mexico. For more information visit http://www.co-production.net