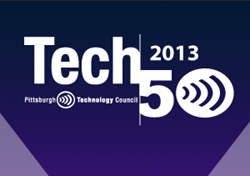 Pittsburgh, PA (PRWEB) September 05, 2013
The Pittsburgh Technology Council (PTC) has named TMG Electronics, Inc., a Pittsburgh-based electronic manufacturing service provider, a Tech 50 Awards Finalist in the Advanced Manufacturer of the Year Category.
The Pittsburgh Technology Council's annual Tech 50 Awards recognize southwestern Pennsylvania's most successful, innovative, and thought-leading technology companies, which have become the backbone of Pittsburgh's new economy. The awards represent transformative technology centers of excellence with tech companies at all stages of growth. Tech 50 also recognizes the region's top tech executive.
"Each year, the Council canvasses the region for the most distinguished public and private technology-oriented companies," said Audrey Russo, President and CEO, Pittsburgh Technology Council, "the Tech 50 awards honor those companies that demonstrated the strongest growth and advancement in product or sales success, financial strength, corporate citizenship, job growth and retention and innovative product or technology."
TMG Electronics is a nationally recognized manufacturing service provider, supporting clients in the medical, industrial, consumer and telecommunications industries, as well as military and defense contracting. The company, which experienced a 46% growth from 2012-2013 and is projecting an additional growth of at least 25% for 2014, is thrilled to receive the nomination.
"We are honored that TMG Electronics was chosen to be one of the finalists for the Advanced Manufacturer of the Year award category by the Pittsburgh Technology Council and I am very proud of all of the employees who have contributed to our success over the past year," says Pat Sims, President of TMG. "This has been an incredible ride for us and we have only benefited from our relationship with the Pittsburgh Technology Council and its affiliates. We are thrilled to be included in the powerhouse mix of companies and firms represented through the Council and the various events throughout Southwestern Pennsylvania and beyond."
Tech 50 winners will be announced on October 10, 2013 at the Wyndham Grand Pittsburgh, PA.